In the immortal words of Noel Coward "If your friend only last through lunch. . ."
I first learned of Doug's death through an e-mail from Gay City News editor Paul Schindler.
I am very sorry to tell you that Doug Ireland has passed away.

During the seven years he and I worked together he has had persistent, serious health problems, but was a bull of a writer in turning out first rate work in spite of all he faced. I don't know many details yet, except that a woman that the police contacted called John Berendt who in turn contacted Sean Strub.

I know each of you knew Doug well over the years, and given the wide array of his interests and pursuits and his guarded privacy in recent years as he struggled with health issues, any suggestions any of you have for folks GCN should speak to would be appreciated. He and I spoke just about every week over the past seven years, yet there is a good deal about him that I don't know, and I want to make sure we do full justice to him.

Any help or suggestions would be appreciated and I am sorry to be passing along this news in what suddenly seems like a very impersonal way of communicating.

Best,

Paul
Then he posted on the Gay City News website
Doug Ireland, a journalist and activist who came of age in the New Left politics of the 1960s and whose interests and professional pursuits ranged from foreign and domestic politics to literature and philosophy, died in his East Village home on October 26.
He was 67 years old, and, according to his longtime friend Valerie Goodman, had suffered in recent years from the after-effects of childhood polio and from diabetes and severe sciatica. Though no cause of death has yet been established, Ireland had at least two major strokes over the past several years.
Goodman, one of the few intimates who spent time with him in recent years while he felt too ill to leave his apartment or have company, said she was contacted by the NYPD after Ireland's body was found in his home.
Despite chronic, at times debilitating pain and frequent hospitalizations, Ireland remained a dogged reporter and book critic in recent years, writing articles for nearly every issue of Gay City News –– where he has been the international contributing editor –– since mid-2005 and also reporting on American politics for French-language publications in France.
Gay City News is preparing a full remembrance of Doug's life.
I have known Doug for a great many years in one context or another. But over the past few months we became closer as he brought me to Gay City News to write
I was greatly looking forward to working with him in the future. But said future is over.
Nothing yet in The World's Worst Newspaper. That's all to the good. I dread reading their lies. Meanwhile here's what Wiki sez
Doug Ireland (born 1946. d. October 27, 2013.) was an American journalist and blogger who wrote about politics, power, media, and also about gay issues. He was the U.S. correspondent for the French political-investigative weekly Bakchich, for which he also wrote a weekly column, and he was also the Contributing Editor for International Affairs of Gay City News, the largest LGBT weekly newspaper in New York City and in the U.S.
Ireland began his journalism career at the New York Post when it was still owned by Dorothy Schiff and considered the most liberal daily newspaper in the U.S. He lived for ten years in France, writing on European politics and culture for various publications; and he has continued to write frequently about French and European politics and foreign affairs. Ireland has been an assiduous promoter in the United States of the work of the prolific young French philosopher Michel Onfray.
Ireland has been a columnist for the Village Voice, the New York Observer New York magazine, and the Paris daily Libération, among other publications He is also a contributing editor of POZ, the monthly for the HIV-positive community, of the magazine In These Times and the French satirical news website Bakchich.
A severe critic from the left of Bill Clinton's presidency, Ireland for three years wrote a syndicated Clinton Watch column. He wrote extensively in opposition to the two invasions of Iraq by Bush pere and fils, and against the U.S. invasion of Afghanistan.
Ireland was part of the early 1960s American new left. He was a member of Students for a Democratic Society, and was elected to its National Council in 1963 at the age of 17. He also spent a year on the SDS national staff, as Assistant National Secretary, in 1963-64. Ireland dropped out of SDS in 1966 to devote his time to electoral organizing against the Vietnam war. As a staff member of the New Jersey Industrial Union Council AFL-CIO and the United Auto Workers Region 9-A, in 1967 he helped to organize the National Labor Leaderhip Assembly for Peace to oppose the Vietnam war.
An early member of the Dump Johnson movement, Ireland was recruited for the staff of the presidential campaign of the man who became the anti-war candidate of the Dump Johnson movement, Senator Eugene McCarthy, for whom Ireland coordinated the Mid-Atlantic region of states. Following the 1968 Democratic National Convention (at which he coordinated McCarthy's labor support and helped organize demonstrations by Convention delegates against police brutality targeting anti-war demonstrators) Ireland went to Long Island to help run the successful campaign for Congress by Allard Lowenstein, considered the principal founder of the Dump Johnson movement. After a stint as a journalist on the New York Post and then on the Community News Service (a short-lived wire service providing news of the black, Latino, and other minority racial communities), he resigned to manage the successful 1970 anti-Vietnam war campaign for Congress by Bella Abzug, making her the first left radical to be elected to the U.S. House of Representatives since Vito Marcantonio. He also managed Abzug's 1976 campaign for the Democratic nomination for U.S. Senator from New York, which Abzug narrowly lost by 0.10 per cent of the vote to Daniel Patrick Moynihan. After that, Ireland returned full-time to journalism in 1977, and has remained a journalist since.
Doug's antipathy to Clinton was quite personal.
During the decade I lived in Paris, I found my One Great Love, whose name was Hervé Couergou. The son of working class parents who were both Catholic and Communist, and thus doubly homophobic, he'd left home when he was but 15. Although he possessed superb literary taste and harbored ambitions of writing, his class background and tumultuous youth had deprived him of the confidence to do so. In our partnership after we declared our love for one another, I was finally able to help him find some of that self-confidence, and he was just beginning to make a serious effort to write when he was diagnosed with AIDS. He did not want to die in France, from which he felt deeply alienated, and wanted to see the United States before he died. So I moved back to New York to prepare the way for him to come to live here, finding a job — first as a columnist with the New York Observer, then moving to the Village Voice, which had a non-discriminatory health insurance policy which would have covered him as my partner.
But just two months before Hervé was to move here to join me, President Bill Clinton, as part of the same strategy to win Republican votes that led him to sign the Defense of Marriage Act, saw fit to renew George Herbert Walker Bush's executive order barring admission into this country to anyone with HIV. This meant that Hervé could not come here to live legally, and thus could not be covered by my Voice health insurance. He made several trips here on all-too-brief tourist visas, but on each visit was terrified lest the customs officials find the AZT in his luggage and send him back to Paris. On his last trip here, when the ravages of the disease began to be visible on his face, he had an actress friend cover him in makeup to hide the physical evidence.
Soon, Hervé became too ill to work, and despite France's excellent public health coverage, second opinions — which became increasingly necessary — were not covered, nor were his rent and living expenses. I had to stay here to work and pay for all of this, and was thus denied the chance to take care of him in his illness, which in the final year of his young life — he was 20 years younger than I — were excruciating.
There have been many medical studies that demonstrated conclusively that those with AIDS who had partners to care for them lived significantly longer than those who didn't. If I ever again were to run into Bill Clinton, I would still today spit in his face for his sadistic act of cruelty that, I'm certain, got him not a single vote, yet ruined so many lives.
I've no doubt Bubba would be quick to quote Edward Albee and say "Well that's blood under the bridge."
Indeed. Quite a lot of it. The results of Clinton's "Triangulation" are everywhere, and there's no reason to believe his wife won't continue such policies. Yes she's "Better" than any Republican. But the two of them are Grifters — and always have been.
For as Russell Brand reminds us –
Something tells me Doug would agree with him. But he would no doubt have had a lot more to say as well.
As you can see from the link, Doug's above quote remarks about his lost love came from a rather famous piece he wrote about the infamous Christopher Hitchens.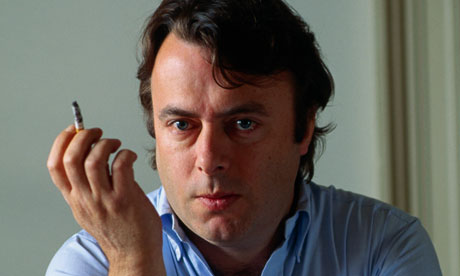 In it he noted –
I had learned more homosexual British lore from Hitch than from anyone else I've ever known. He also had the best gay gossip. It was he who told me how Lord Mountbatten, the commander of Allied forces in Southeast Asia uring World War II and the great uncle of Charles, Britain's crown prince, was known in the navy as "Lord Mountbottom" for his particular interest in young seamen.
WHOA!
When I first met Hitch in the late '70s, I was the Washington columnist for New York magazine — and though it may seem hard to believe now, in those days you could count the number of openly gay journalists writing in the mainstream press on the fingers of two hands. My militant involvement in the gay liberation movement was no secret, and in the first of many long and bibulous nights I spent bending the elbow with Hitch — who, even in my most capacious younger days of alcohol consumption, which was considerable, could still drink me under the table — he made a particular point of telling me that the most intense and important emotional relationship in his life had been when he'd fallen in love with another teenage boy at school, a confidence which, as it was meant to, created a special bond between us and opened a level of emotional trust that was never after to be shaken. Hitch told me he admired my guts in being "out" in what was still a horribly homophobic profession.
But wait, there's (of course) more !
So when Hitch, in the wake of 9/11, began to turn away from the left on a number of central foreign policy questions — he became a vocal supporter of the war in Iraq — it was a journey that led to his eventual support for the re-election of George W. Bush. He went so far as to permit himself to be photographed for a magazine cover with the inevitable glass of Scotch in his hand wearing a T-shirt that proclaimed, "Vote Bush!" I so loved and admired Hitch and his immense talent that his loss to the left was, for me, like the amputation of a body part.
How vivid.
Doug was a lot more forgiving than I am — but he had his reasons.
In passing it should be noted that among the many things Doug did over the years his performance in this Alain Tanner film deserves mention.
There is much more to say about Doug.
And now Jessye Norman.
a suivre