Surely the facts are of no interest to Snowjob's defenders.
BERLIN — Edward J. Snowden, the fugitive American security contractor granted temporary asylum by Russia, has appealed to Washington to stop treating him like a traitor for revealing that the United States has been eavesdropping on its allies, a German politician who met with Mr. Snowden said on Friday.
Mr. Snowden made his appeal in a letter that was carried to Berlin by Hans-Christian Ströbele, a veteran member of the Green Party in the German Parliament. Mr. Ströbele said he and two journalists for German news outlets met with Mr. Snowden and a person described as his assistant — probably his British aide, Sarah Harrison — at an undisclosed location in or near Moscow on Thursday for almost three hours.
Allowing ample time for photo-ops.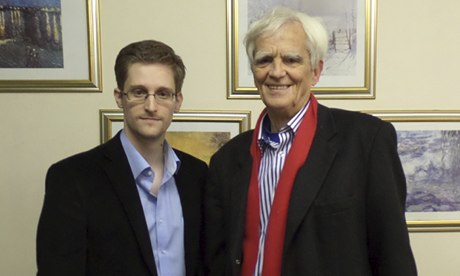 Mr. Ströbele had gone to Moscow to explore whether Mr. Snowden could or would testify before a planned parliamentary inquiry into the eavesdropping. Any arrangements for Mr. Snowden to testify would require significant legal maneuvering, as it seemed unlikely that he would travel to Germany for fear of extradition to the United States.
In his letter, Mr. Snowden, 30, also appealed for clemency. He said his disclosures about American intelligence activity at home and abroad, which he called "systematic violations of law by my government that created a moral duty to act," have had positive effects.
And here we come to the beating heart of the matter. What were the "effects" of these disclosures. Were they "positive" as the Snojobistas claim, or did they seriously harm intelligence-gathering operations as the NSA asserts? We have no way of knowing. Ordinary citizens are not "intelligence experts." We don't have the training, or access to the voluminous amounts of subsidiary information needed to comprehend what damage ay or may not have bee done as a result of these disclosures. What we DO know is that the internet is porous. So porous that even a high-school drop-out can hack it. That everyone now uses it for both communication and storage, world-wide, is the real danger. And there is at present no easy means of rectifying this situation.
Yet "my government continues to treat dissent as defection, and seeks to criminalize political speech with felony charges that provide no defense," Mr. Snowden wrote. "However, speaking the truth is not a crime. I am confident that with the support of the international community, the government of the United States will abandon this harmful behavior."
He could also take responsibility for his actions and return to the U.S. to face charges of theft of classified documents – an act he knowingly committed – and defend himself. But of course he won't, because in the eyes of Glennzilla his anal excretions supply no Olifactory offense.
Mr. Ströbele, 74, is a seasoned left-wing defense lawyer and the longest-serving member of the parliamentary committee that oversees German intelligence. At a packed news conference after his return to Berlin, he said he was contacted about going to Moscow late last week after the German government said Chancellor Angela Merkel's cellphone might have been tapped by American intelligence agents. He declined to elaborate, but said he has had no dealings with the Russian authorities or the German Embassy in Moscow.
He deftly parried requests to reveal more, while appealing to the governments and citizens of Germany, France and the United States to stop treating Mr. Snowden as a criminal.
But he IS a criminal — by any definition of the law.
Instead, Mr. Ströbele said, echoing an opinion gaining support here, Germany should thank Mr. Snowden. After ARD, the premier German television network, reported on Thursday night about the Moscow visit, it broadcast a commentary arguing that Germany should show gratitude for his exposure of United States intelligence practices.
Mr. Ströbele said he had found Mr. Snowden lucid and well informed. He said he had been told that Mr. Snowden was allowed to go shopping, but Mr. Ströbele declined to reveal any other details about Mr. Snowden's routine.
News about the visit to Moscow eclipsed a number of interviews given on Thursday by the American ambassador, John B. Emerson, who tried to assuage German fears that the United States Embassy in Berlin was the center for monitoring Ms. Merkel and other well-placed Germans.
Mr. Emerson, who arrived in Berlin two months ago and is a strong proponent of a landmark American and European trade deal under negotiation, was summoned to the German Foreign Ministry last week after Berlin's suspicions about eavesdropping on Ms. Merkel were made public. The action was unprecedented in post-World War II relations between the United States and Germany.
Ms. Merkel, while palpably angry in appearances last week, has made no direct statements since, quietly sending two senior advisers to Washington this week to begin re-establishing the trust she said had been breached.
Mr. Ströbele's news conference yielded moments of humor as well. At one point, his cellphone rang. He pulled it out, looked at it and asked cheerfully, "Does anybody know the chancellor's number?"
Asked to speculate about which intelligence services might have monitored his trip to Moscow, he said with a smile, "I assume that they are all interested."
Meanwhile in Glennzilla-land . . .
WASHINGTON, Nov 1 (Reuters) – British authorities claimed the domestic partner of reporter Glenn Greenwald was involved in "terrorism" when he tried to carry documents from former U.S. intelligence contractor Edward Snowden through a London airport in August, according to police and intelligence documents.

Greenwald's partner, David Miranda, was detained and questioned for nine hours by British authorities at Heathrow on Aug. 18, when he landed there from Berlin to change planes for a flight to Rio De Janeiro, Brazil.
Don't you just love the term "partner"? Well I sure as hell don't !
After his release and return to Rio, Miranda filed a legal action against the British government, seeking the return of materials seized from him by British authorities and a judicial review of the legality of his detention.
At a London court hearing this week for Miranda's lawsuit, a document called a "Ports Circulation Sheet" was read into the record. It was prepared by Scotland Yard – in consultation with the MI5 counterintelligence agency – and circulated to British border posts before Miranda's arrival. The precise date of the document is unclear.

"Intelligence indicates that Miranda is likely to be involved in espionage activity which has the potential to act against the interests of UK national security," according to the document.

"We assess that Miranda is knowingly carrying material the release of which would endanger people's lives," the document continued. "Additionally the disclosure, or threat of disclosure, is designed to influence a government and is made for the purpose of promoting a political or ideological cause. This therefore falls within the definition of terrorism…"
PRECISELY!
Miranda was not charged with any offense, although British authorities said in August they had opened a criminal investigation after initially examining materials they seized from him. They did not spell out the probe's objectives.

A key hearing on Miranda's legal challenge is scheduled for next week. The new details of how and why British authorities decided to act against him, including extracts from police and MI5 documents, were made public during a preparatory hearing earlier this week.

British authorities have said in court that items seized from Miranda included electronic media containing 58,000 documents from the U.S. National Security Agency and its British counterpart, Government Communications Headquarters (GCHQ).

Greenwald, who previously worked for Britain's Guardian newspaper, has acknowledged that Miranda was carrying material supplied by Snowden when he was detained.
IOW he's an admitted thief.
In an email to Reuters, Greenwald condemned the British government for labeling his partner's actions "terrorism."

"For all the lecturing it doles out to the world about press freedoms, the UK offers virtually none…They are absolutely and explicitly equating terrorism with journalism," he said.
(And you are explicitly equating theft of government documents with journalism)

Separately on Friday, media disclosed details of an open letter Snowden issued to Germany from his place of exile in Russia, in which he says his revelations have helped to "address formerly concealed abuses of the public trust" and added that "speaking the truth is not a crime."

Snowden said he was counting on international support to stop Washington's "persecution" of him for revealing the scale of its worldwide phone and Internet surveillance.

Steven Aftergood, a secrecy expert with the Federation of American Scientists, said that given the nature of the material that Miranda was carrying, a harsh response by British authorities was not unexpected.

"It seems that UK authorities were attempting to seize or recover official documents, to which they arguably have a claim," Aftergood said. "The authorities' action was harsh, but not incomprehensible or obviously contrary to law."

In a separate document read into the court record, MI5, also known as the Security Service, indicated British authorities' interest in Miranda was spurred by his apparent role as a courier ferrying material from Laura Poitras, a Berlin-based filmmaker, to Greenwald, who lives with Miranda in Brazil.
"We strongly assess that Miranda is carrying items which will assist in Greenwald releasing more of the NSA and GCHQ material we judge to be in Greenwald's possession," said the document, described as a "National Security Justification" prepared for police.

"Our main objectives against David Miranda are to understand the nature of any material he is carrying, mitigate the risks to national security that this material poses," the document added.

A spokesman for the British Embassy in Washington had no comment on the court proceedings or documents.
But Dean and Jerry do.