The Pink Slips are falling, and Howie has the skinny
CBS's "60 Minutes" has in effect suspended Lara Logan, its globe-trotting correspondent, for serious flaws in her now-retracted story about Benghazi.
And MSNBC has severed ties with Alec Baldwin, who lost his recently launched show for allegedly hurling an anti-gay insult at a photographer—a charge he disputes.
Though the situations could not be more different—one involving an investigative report on an international tragedy, the other a shouted outburst on the street–both moves yesterday highlight the sensitive question of how to deal with television personalities who screw up.
The two who were punished handled it differently as well: Logan with a dignified silence, Baldwin with a blast at "the fundamentalist wing of gay advocacy."
Isn't she lovely?
Isn't he awful ?
After an internal inquiry, CBS News Chairman Jeff Fager said in a statement, "I have asked Lara Logan, who has distinguished herself and has put herself in harm's way many times in the course of covering stories for us, to take a leave of absence, which she has agreed to do."
So nice that she "agreed" isn't it?
He asked the same of Max McClellan, the veteran producer who worked on the story based on a contractor's bogus account of what happened at the compound at Benghazi.
This is a suspension in everything but face-saving name. Logan was not given a choice, and my understanding is that she will be sidelined for a significant amount of time, not a wrist-slapping couple of weeks.
Fager, who also runs "60 Minutes," did not spare himself:
"As executive producer, I am responsible for what gets on the air. I pride myself in catching almost everything, but this deception got through and it shouldn't have."
Nor did Fager spare his broadcast, which exists as something of an island apart from the mainland of CBS News. While "60 Minutes" has been a "model" for the network's improved reporting, Fager said, it "fell short by broadcasting a now discredited account of an important story, and did not take full advantage of the reporting abilities of CBS News that might have prevented it from happening."
Punishing Logan, who has repeatedly risked her life in war zones, must be particularly hard for Fager, who helped make her a star and has always been one of her major boosters.
Here's Lara surrounded by her Egyptian fans.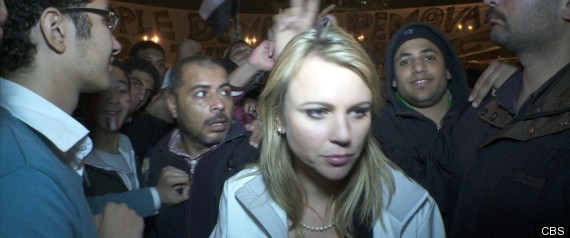 I still think there should have been an outside investigation of what happened. But the review by CBS veteran Al Ortiz, executive director of standards and practices, was highly critical and may begin the difficult job of holding the newsmagazine accountable.
The way there should have been an "outside investigation" of Dan Rather's story about George W. Bush's National Guard service, over which Rather got shit-canned EVEN THOUGH RATHER'S STORY WAS TRUE ?
Ortiz examined the account by security contractor Dylan Davies and concluded that "Logan's report went to air without 60 Minutes knowing what Davies had told the FBI and the State Department about his own activities and location on the night of the attack."
The program did not consult the news division, the report says, and "it's possible that reporters and producers with better access to inside FBI sources could have found out that Davies had given varying and conflicting accounts of his story."
This would have posed no problem on FOX which has been relentlessly flogging the Benghazi non-story for over a year.
It's a Republican "talking point" ya know.
What's more, Logan and her producer "found no reason to doubt Davies' account and found no holes in his story. But the team did not sufficiently vet Davies' account of his own actions and whereabouts that night."
In fact, Ortiz found, "Davies told 60 Minutes that he had lied to his own employer that night about his location, telling Blue Mountain that he was staying at his villa, as his superior ordered him to do, but telling 60 Minutes that he then defied that order and went to the compound. This crucial point – his admission that he had not told his employer the truth about his own actions – should have been a red flag in the editorial vetting process."

That is an understatement.
Howie's a master of understatement.
In retrospect, it's hard to see how this thing got on the air, but at least CBS is finally detailing where it went wrong.
Actually its quite easy. Lara Logan has been hysterically promoted by 60 Minutes as a "star" reporter, and her fascist agenda has been left utterly unexamined. It was sure to surface sooner or later, and what better way than through Benghazi – or as Republicans say BENGHAZI!!!!!
As for Baldwin, MSNBC's two-week suspension has to be contrasted with the failure to discipline Martin Bashir, who made those disgusting defecation comments about Sarah Palin. Baldwin spoke in anger in his private life, while Bashir's attack was scripted and read off a network teleprompter.
But the move so soured relations between the actor and MSNBC that the network wound up canceling his new weekly show.
Baldwin, who has a history of clashing with the paparazzi, had a previous incident in which he shouted an anti-gay slur. So when TMZ reported that he had done so again with a photographer outside his Manhattan apartment, it certainly seemed credible—especially when MSNBC posted Baldwin's apology.
He was not exactly in an apologetic mood when he spoke to the Gothamist:
Showing a video in which I call someone a 'c***ing something'… you can't really tell what I'm saying, and we live in a world in which the phrase 'TMZ's enhanced audio' exists. 'TMZ's enhanced audio.' And then with The [New York] Post… there's nothing you can do when you get thrown in this washing machine, nothing. You know? Nothing. All you end up doing is just defending yourself all day long."
Then he turned to his ex-colleague:
"Martin Bashir's on the air, and he made his comment on the air! I dispute half the comment I made… if I called him 'c***ing maggot' or a 'c***ing mother***'… 'faggot' is not the word that came out of my mouth. That I know. But you've got the fundamentalist wing of gay advocacy—Rich Ferraro and Andrew Sullivan—they're out there, they've got you. Rich Ferraro, this is probably one of his greatest triumphs. They killed my show. And I have to take some responsibility for that myself."
(Ferraro works for GLAAD and Sullivan is the country's most prominent gay blogger.)
The country's most prominent gay blogger is Joe My God
For Baldwin to lash out like that is, shall we say, not helpful. But at least he finally got around to taking "some responsibility" for what happened.
I'm kind of exhausted talking about Alec Baldwin, but he's one more turn round the block(head). When he was starting out as an Actor//Waiter Alec was given guidance by a number of soigne gay men — who didn't ask for sex in return. They're all dead now tanks to AIDS. But in several interviews he's spoken of them warmly. Leave us not forget he was a bartender at Studio 54. He observed Halston up close and longed to do a biopic about him. But that was many years and many pounds ago, With the right script and director it could have been great. On the other hand I've been aware of his Anger Management issues for some time. A friend of mine (now highly placed with Geffen) started out as a unit publicist. One of her most memorable jobs was on The Marrying Man — the film in which Alec and Kim met and fell in mutual self-love. The horror stories she told me about these TWO (count 'em) rage-a-holics would make your hair fall out in tufts. You can find more if you Google stories about that production of Entertaining Mr. Sloane he was in on Broadway about ten years ago. On stage he was great. Off-stage he treated his leading lady like garbage.
In short he's a very fine actor and a rather lousey human being. And when it comes to cussing —
As for the lovely Lara, here she is with her Newsboys