Double Double Toil and Trouble!
He became the leader of America's largest archdiocese at the very moment the church was being forced to confront clergy molestation. Because he was just 49 when he took office, he was in power for the entire arc of the abuse crisis. Long after peers had retired or died, Mahony was around to face the public's wrath. Because of the unique way abuse lawsuits played out in California, his files on molesters became public while in most other corners of the church, they remain under lock and key.
And might well have stayed there were it not for the concerted efforts of a aroused public determined to put an end to state-sponsored child molestation involving (among many other things) the legal protection of this creep afforded by the pedo-protecting organization he works for.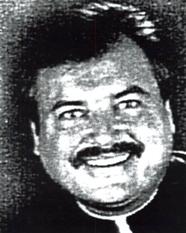 Had they met under different circumstances, Mahony might have thought Father Michael Baker an ideal priest for the archdiocese he was trying to build. Like the archbishop, Baker was a Southern California native fluent in Spanish as well as English. His bright blue eyes, charisma and familiarity with Mexican culture made him popular in the Latino parishes so important to the archbishop.
But what brought Baker to Mahony's office in December 1986 was a sin gnawing at his conscience. For close to a decade, the priest said, he had molested two boys.
That a priest could molest a child would no longer have surprised Mahony. Less than a month after he started work in L.A., the first letter regarding an abuser priest landed on his desk. Two days later, he was dealing with the case of a second molester priest.
Baker was the ninth.
For decades, such allegations had made their way to the archdiocese's headquarters. But for the most part, the men who wore the miter before Mahony did little in response. Letters from irate parents gathered dust in file cabinets. Priests were quietly transferred.
And now we come to the beating heart of the matter.
Mahony and other bishops subsequently received a lengthy report warning of the legal and public relations ramifications of abuse and offering tips for dealing with such cases. The report, written by a priest, a psychiatrist and a lawyer, presented the topic in a risk-analysis manner appealing to pragmatists like Mahony.
"Our dependence in the past on Roman Catholic judges and attorneys protecting the Diocese and clerics is GONE," the report said.
See how it works? Because The Church markets itself as a representative of The Big Invisible Bi-Polar Daddy Who Lives in The Sky it is Above the Law and not to be questioned – EVER. But thanks to a growing disbelief in Big Daddy that game is over, and with it the protection Roger and his child- molesting priests have enjoyed for so long. The "authorities" aren't going to cover for them any more.
The L.A. leg of Pope John Paul II's summer visit, the first time a pope had ever set foot in California, needed planning. And in the archbishop's corner office, Baker wanted to unburden himself about two boys he had molested for years.
What happened? Mahony asked. "Oh, just touching," Baker said.
TELL US ABOUT IT JANET!
Who were they? Mahony asked. Immigrant boys who'd left the area, Baker said. He didn't know their last names or where they could be found, he said. For all he knew, they might be back in Mexico.
Out of sight out of mind.
Over the border.
The experts' report on abuse had mentioned cases like Baker's. Molesters so rarely self-disclosed that when a priest did, the bishop "should 'reward' him with his support," it said.
"Experts"? Enablers is more like it!
The archbishop did not raise his voice, the priest would later recall. He did not press Baker for the boys' identities or ask if there were more victims.
"I was glad I brought it up," Baker told The Times in 2002.
Mahony typed up a detailed account of the conversation and placed it in the priest's confidential file, meticulous record-keeping that distinguished the archbishop from his predecessors.
By the time the holidays were over, Baker had been sent to a New Mexico treatment center for accused pedophile priests. Police weren't notified. Victims weren't contacted.

It would become a familiar pattern
Indeed.
"We called them Father Fondle cases," recalled Lauren Hunter, then a paralegal at the firm. Riordan said in an interview he was not aware his firm handled the clergy abuse cases.
Words fail.
Mahony and his aides selected therapists who they knew wouldn't report abuse to authorities, and urged suspected molesters to remain out of state to avoid police investigations and lawsuits. Mahony ordered one priest who had admitted preying on as many as 20 children to stay away from California "for the foreseeable future" to avoid prosecution.
"Cheeze-it Father — They're onto us! Take a vacation. How about Palm Springs? You could manage a gay B&B there and come back when the coast is clear."
Detectives begged parents not to inform the church and held off telling their own supervisors, Barraclough said in an interview, buying time to talk to witnesses, track down other victims, and seize toys and photos from rectories.
Officers often lost the race. In early 1988, police learned that a visiting priest allegedly molested several boys over nine months before fleeing to his native Mexico. In an effort to identify all the potential victims, detectives asked for a list of altar boys at two L.A. parishes.
Mahony was adamant that the roster not be provided: "We cannot give such a list for no cause whatsoever," he wrote to aides in an internal memo.
WHY IS THIS MAN NOT IN PRISON FOR AIDING AND ABETTING WIDESPREAD PERSISTENT CHILD MOLESTATION?
In the wake of the negative press, Mahony cleared his schedule to deal with the case full time. He implored bishops across Mexico for help in tracking down the fugitive priest, and arranged a meeting with Lyon and his supervisor to clear the air.
During that meeting, Mahony sat quietly as one of his attorneys and an aide accused the police of misrepresenting the archdiocese to the press. Lyon recalled church representatives saying: We never refused to turn over the altar boy lists. We were fully cooperative.
"They lied as bad as any thug or ex-con I've ever come across on the street," Lyon recalled in an interview. "They were more interested in saving the reputation of the church than helping us find these young victims."
Curious how the L.A. District Attorney will spare no expense to harass Roman Polanski yet not lift a finger to finger Phony Mahoney.
COULD IT BE BECAUSE POLANSKI IS A JEW?
Just asking.
Alleged perpetrators were referred to as "Father X," and the parishes involved were never identified. Board members were never told whether Mahony followed their advice.
None of them mentioned calling police.
AS IF!
In those years, it seemed unimaginable that anything could undermine his power.
But seven miles from the new cathedral site, at St. Columbkille's in South L.A., Michael Baker had returned to the ministry. The priest had signed a contract vowing to stay away from children and agreed that a trusted Mahony aide, Msgr. Tim Dyer, would monitor him in the rectory.
On a May afternoon in 1996, Dyer went home from work early and climbed the stairs toward the priests' bedrooms. Suddenly, Baker emerged from that direction with a teenage boy at his side and barreled past Dyer. Aghast, the monsignor threw down the books he was carrying and raced after them. By the time Dyer reached the bottom step, Baker and the teen were outside.
Dyer peered through the rectory's Venetian blinds just in time to see Baker's car screech away, with the boy in the passenger seat.
Calling William Friedkin. Here's your Cruising II
Mahony had quietly settled claims before, many for little or no money. But to prevent an airing of Baker's misdeeds in a public courtroom, he approved a settlement on a different order: $1.25 million.
The payout stopped the suit, but not Baker. Mahony barred him from acting as a priest in public, but church officials soon learned he was still wearing his clerical collar and ingratiating himself with families by performing baptisms.
Those closest to Mahony realized that after years of trying to handle Baker quietly, they had reached a breaking point.
Don't you just love the way this piece keeps using "quietly" to describe clerical criminality?
Loomis and the archdiocese's lawyer, John McNicholas, told the cardinal that for the safety of the community, the faithful must be alerted. They proposed vaguely worded parish announcements about Baker's "past inappropriate behavior with minors" in another state. But even that was too much for Mahony.
"There is no alternative to public announcements at all the Masses in 15 parishes???" Mahony emailed Loomis. "Wow — that really scares the daylights out of me!!"
Ending up HERE like Father Baker would scare you more, dear.
He quietly drew up a list of all accused abusers still working in the archdiocese. There were seven. One by one, he summoned them to the chancery and informed them their careers were over.
Again "quietly"!
His press office embraced a phrase once unimaginable for the archbishop: "No comment."
SNERK!
Mahony lamented that to be a priest was to be suspected of abuse.
Rather than simply, uncomplicatedly, gay.
Mahony invited victims to meet one-on-one with him. More than 90 accepted. A man who said he was molested by Baker refused to shake Mahony's hand, he told The Times, and lambasted the cardinal for more than an hour about how the priest's abuse had led to a lifetime of crime and alcoholism.

How can I help you? Mahony finally asked.
Give me my childhood back, the man replied.
Yep!
But events in a dreary courtroom west of downtown last winter would ensure that he couldn't separate his legacy from the abuse scandal. In January, after years of delays, a judge signed an order forcing the archdiocese to make public thousands of pages of priest personnel files, the final piece of Mahony's mammoth settlement with victims.
The records showed for the first time, and often in Mahony's own handwriting, the level of his personal involvement with abuse cases. He had reviewed the psychiatric reports in which priests laid out what they'd done to children. He had read the letters in which mothers of victims described their agony, and he had strategized with aides about how to keep abusers from justice.
Poor Roger! Where is he now? Not in the slammer where he belongs.
He now lives in the rectory of his boyhood parish in North Hollywood. Some Sundays, he volunteers at churches in poorer neighborhoods, saying Mass in Spanish in place of vacationing priests.
When Mahony's predecessor retired, a church historian worked with him to prepare an exhaustive biography. No one is currently working on Mahony's.
How about an "Unauthorized" by Kitty Kelley?
As for "Father Fondle" –
Michael Baker served about six years behind bars after pleading guilty to molesting two boys. Authorities believe he abused at least 21 other children. He now lives at a senior citizen community in Costa Mesa. On a recent morning, he answered the door for reporters wearing only shorts. Keep your voices down, he said. My neighbors don't know.
Sing us out Boys!