You're going to be hearing a lot about this queen in the coming days.
And not just because of his questionable fashion choices
Let us return to 2009 where Mike Signorile notes –
GOP Congressman Aaron Schock of Illinois, the subject of persistent gay rumors since he took office in 2009, said on Thursday that questions about his sexual orientation and how it might relate to his antigay voting record and positions are "inappropriate and ridiculous" and not "worthy of further response." He also stated, "I've said that before," when asked if he is confirming that he is not gay, and added, "You can look it up."

Schock had in fact stated to Details magazine in 2009 that he is not gay, in a lengthy piece which noted that he is unmarried and had been the subject of rumors as far back as 2004, when he was asked the question by a Chicago newspaper.

The rumors, however, have only surfaced again and again since 2009, such as when Schock wore a flamboyant outfit — which included white jeans, a hot pink gingham shirt and a teal belt — to the White House picnic in June of 2010, immediately reigniting widespread Internet speculation and discussion about his sexual orientation. (After the online frenzy, Schock tweeted that he had "burned the belt.")
Good move
The rumors blew up again when Schock posed shirtless on the cover of Men's Health in May of 2011, showing off his well-defined abs, as well as being photographed in various poses inside the magazine, promoting health and fitness.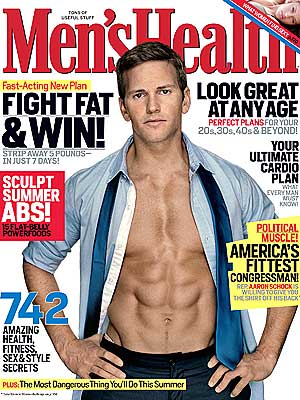 Hubba-Hubba!
And it didn't help quell the rumors when, last week in Tampa, Fla., while he was attending the Republican National Convention, TMZ descended upon Schock as he was walking through the gay neighborhood of the city, complete with rainbow flags in the background as well as stores selling skimpy men's underwear and what some have said is a local gay bathhouse.
CLUTCH THOSE PEARLS LIKE THERE'S NO TOMORROW!
TMZ.com reported that Schock was exiting a Chuck Todd-sponsored event for youth when its interviewer caught up with Schock to ask if he had fashion advice for fit and trim Paul Ryan, who has been criticized by style experts for wearing suits that are too baggy. "I think Paul's in great shape," Schock told TMZ. "I think a little bit of leaner attire to help accentuate that physique he works so hard to, you know, maintain."
"Maintain" — we dig.
Asked on the floor of the RNC in an interview for my SiriusXM OutQ radio program to respond to those who've believed that Schock is gay and also view his vote against "don't ask, don't tell" repeal as a vote against members of his own group, Schock responded, "Those questions are completely ridiculous and inappropriate." He added, when asked if he is confirming that he is not gay, "I've said that before and I don't think it's worthy of further response. I think you can look it up." Schock then walked off, abruptly ending the interview.
On why he voted against DADT repeal, Schock said: "I took the advice of military experts that came before Congress. I think that's why you have John McCain and others who have a military background. Adam Kinzinger is a close personal friend of mine who's an active duty member of Congress [in the district] next door to me and so I think that's why you saw the consistency."
Don't Ask Adam, cause he Won't Tell about Aaron.
In an interview with Buzzfeed's Chris Geidner at "Newt University" in Tampa during the RNC, Schock, who has said he is opposed to gay marriage, also stood by his strong criticism of President Obama and the Department of Justice for not defending the Defense of Marriage Act in federal court. But he hedged on support for a federal marriage amendment that would ban states from allowing gays and lesbians to marry, saying, "I haven't really thought too much about it."
I'll bet.

Meanwhile at Queerty . . .
In a long Facebook post, gay CBS anchor Itay Hod has essentially outed Republican Congressman Aaron Schock on the grounds of hypocrisy. While Hod frames the post as a hypothetical exploration of when outing is appropriate, he provides lots of details and concludes with an ostentatiously "unrelated" link to the 7 gayest Instagram Photos of Aaron Schock from 2013.
Hod is clearly fed up with Schock and perhaps just as much with his colleagues in the media who knowingly play along with closet cases.
Hubba-Hubba Hod!
"what if you know a certain GOP congressman, let's just say from Illinois, is gay… and you know this because one of your friends, a journalist for a reputable network, told you in no uncertain terms that he caught that GOP congressman and his male roommate in the shower… together. now they could have been good friends just trying to conserve water. but there's more. what if this congressman has also been caught by tmz cameras trolling gay bars. now what if you know that this very same guy, the darling of the gop, has also voted against repeal of don't ask don't tell, opposed the repeal of doma, is against gay marriage; and for the federal marriage amendment, which would add language to the us constitution banning gay marriage and would likely strike down every gay rights law and ordinance in the country?
Are we still not allowed to out him?
YES!!!!!
let me ask another question… doesn't the media have an OBLIGATION to expose his hypocrisy? if he had done something so hypocritical and he wasn't gay, wouldn't we demand journalists do their job? but they can't… because we won't let them. you're not allowed to out ANYONE, we tell them."
Can I get an "Oh Prunella!"?
Schock has long been the subject of rumors about his sexual orientation. He has always claimed he is straight (although his wardrobe is not).

No shit, Sherlock!
Just to show he straight he is, Schock has accumulated an antigay record that ranks with the best of the homophobes. He has opposed marriage equality, protections for same-sex bi-national couples, and repealing Don't Ask, Don't Tell, just to name a few, earning him a stellar 0% rating from the Human Rights Campaign.
At the same time that he's voting to deny the LGBT community its rights, Schock has, as AmericaBlog points out, created one of the gayest Instagram accounts ever. Although he follows only 71 people on Instagram, one of them is 19-year-old Olympic diver Tom Daley, presumably so that Schock can solicit his views on Midwest agricultural policy. Openly gay conservative Josh Barro tweeted that fact without comment. None is needed.
Of course in the Bad Old Days Schock wouldn't be "threatened" with outing. Right Roy?
But as we all know things have changed.
It will be interesting to see what impact the post will have on Hod , who came to prominence as the CBS reporter on Logo. Networks aren't keen on their employees going off script. And Hod seems disenchanted with the media itself. In response to comments about his post, Hod also says that he has "issues with BuzzFeed calling robin roberts a goddess…. for coming out at age 53. and saying she shielded her relationship from the press… a nice euphemism for being closeted. again, forgive me if i'm not going all kumbaya over her announcement." (Actually, that's a sentiment we can understand.)
Of course, it will be even more interesting to see what happens to Schock. Sometimes an open secret just stops being secret. If that's the case, Schock may have a lot of explaining to do, and also a lot of apologizing.
He can start by "explaining" Nigel
As one e intrepid internetter notes —
I haven't written about Repulican Congressman and Hottie Politician Aaron Schock in ages. For many years Schock was my number one hate fuck. In fact, we had a long and torrid internet affair that started the moment Schock, purportedly straight, first elected in 2009, showed up to a White House BBQ in white pants and a purple gingham shirt, punctuated with a teal belt.
"Haay girl, is this Provincetown?"
My relationship with Schock (what rhymes with schock?) was so intense that once upon a time the number one Google search term to an old blog of mine was: Aaron Schock gay.
Schock, who showed all of American his six pack on the cover of Men Health, has vehemently denied his homosexuality, even though – as I once told my friend JP: Schock looks one of those "straight dudes" they hire for gay porn sites that pretends to be mucho and straight and then 5 minutes later is getting gang banged.
Sadly, something happened between Aaron and I. I stopped writing about the Schocker. I even stopped tweeting @repaaronschock. Our love ended.
I think it was this video which shows Shock caught, deer in headlights, unable to answer a question about gay marriage. Or perhaps it was this photo of him looking like a dumb fuck that made me realize that not only does It Gets Better, but I Could Do Better. Not even Schock's love of Taylor Swift could help our relationship.
It was over. "Its not you Aaron. It's me." We will always have your abs.
Once Aaron and I were done, I almost forgot about my love of closeted gay conservative politicians (excluding John Baird cause… FIRECROTCH) until – Nigel Wright came along. God fucking bless Nigel Wright.
For those who don't read the newspaper, Nigel Wright is a Canadian businessman and pseudo politician who was hired by Heil Harper to run the PMO. Although a Conservative (rule #1: you can sleep with a Tory, but they're not marriage material), Nigel is quite the catch: he pulled in seven figures as Managing Director of Private Equity firm Onex Corp, he's well connected (being besties with the Prime Minister even if he's a douchbag can't hurt), he usually runs around 20KM every morning (according to the Walrus he runs 120KM a week) so he must have a hot body, and rumour has it he has a gorgeous old renovated Victorian right in the Annex.
Swoon double swoon.
And yet Nigel Wright, like Aaron Schock, is supposedly single. What a shocker, pun intended. Ladies (and I mean ladies because Nigel Wright, couldn't be gay, because he is a member of the Anglo-Catholic movement, which asserts the Catholic identity of Anglicanism) put a ring on it.
Anyway – Nigel Wrong (hahah) got into a wee bit of trouble loaning out some of that cash money bling to a disgraced and portly Senator (Duffy) so he recently resigned from his post at the PMO. Nige, we hardly knew yee. And what now? Presumably he's sitting alone in his Annex manse waiting for the right chick (with a dick, JUST JOKING DON'T SUE ME! [unless you want to role play in which case, call me]) to make him feel better.
So anyway – all of this hubbub around Nigel made me realize: Nigel Wright looks exactly like my ex boyfriend Aaron Schock. Like…do closeted conservative politicians (excluding John Baird) all come from some sort of secret robot place? It's uncanny isn't it?
It sure is.
Sing us out kids.