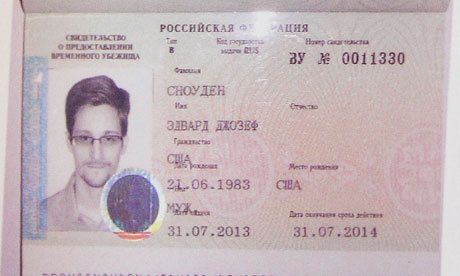 Fast Eddie Snowjob is terribly upset.
Edward J. Snowden, the former National Security Agency contractor turned whistleblower, strongly denies allegations made by members of Congress that he was acting as a spy, perhaps for a foreign power, when he took hundreds of thousands of classified U.S. government documents. Speaking from Moscow, where he is a fugitive from American justice, Snowden told The New Yorker, "This 'Russian spy' push is absurd."
True, in that Eddie
doesn't look at all like –
On NBC's "Meet The Press," Mike Rogers, a Republican congressman from Michigan who is the chairman of the House Intelligence Committee, described Snowden as a "thief, who we believe had some help." The show's host, David Gregory, interjected, "You think the Russians helped Ed Snowden?" Rogers replied that he believed it was neither "coincidence" nor "a gee-whiz luck event that he ended up in Moscow under the handling of the F.S.B."
Republicans are of course Total Hysterics. But until more details are forthcoming the suspicions Rogers voices aren't off the charts at all. Clearly a lot of planning went into this caper and it would be naïve to imagine that Snowden acted alone.
That of course isn't how the Snowdenistas feel at all. To them he's
And Glenn Greenwald is Tonto
Snowden, in a rare interview that he conducted by encrypted means from Moscow, denied the allegations outright, stressing that he "clearly and unambiguously acted alone, with no assistance from anyone, much less a government." He added, "It won't stick…. Because it's clearly false, and the American people are smarter than politicians think they are."
"Clearly false"? How are we to know? You want to rob the government of every piece of information it has yet you are unwilling to supply even so much as a scintilla of your own. And your enablers like Chris Hedges
claim that any attempt to discover anything about you whatsoever constitutes "Character assassination."
If he was a Russian spy, Snowden asked, "Why Hong Kong?" And why, then, was he "stuck in the airport forever" when he reached Moscow? (He spent forty days in the transit zone of Sheremetyevo International Airport.) "Spies get treated better than that."
In the nine months since Snowden first surfaced, there has been intense speculation about his motives and methods.
To date the most intense from Sean Wilentz
But "a senior F.B.I. official said on Sunday that it was still the bureau's conclusion that Mr. Snowden acted alone," the New York Times reported this weekend, adding that the agency has not publicly revealed any evidence that he was working in conjunction with any foreign intelligence agency or government.
The agency is of course being cagey. Never let your target think their being tracked.
The issue is key to shaping the public's perceptions of Snowden. Congressman Rogers, on "Meet the Press," went on to allege that "some of the things he did were beyond his technical capabilities. Raises more questions. How he arranged travel before he left. How he was ready to go—he had a go bag, if you will." Gregory then asked Senator Dianne Feinstein, a Democrat from California who chairs the Senate Intelligence Committee, and who was also a guest on the show, whether she agreed that Snowden may have had help from the Russians. She did not dismiss the notion. "He may well have," she said. "We don't know at this stage." On CBS's "Face the Nation," Rogers made similar allegations, saying, "This wasn't a random smash and grab, run down the road, end up in China, the bastion of Internet freedom, and then Russia, of course, the bastion of Internet freedom."
And Freedom tout courte right Glenn?
Asked today to elaborate on his reasons for alleging that Snowden "had help," Congressman Rogers, through a press aide, declined to comment.
An aide to Senator Feinstein, meanwhile, stressed that she did no more than ask questions. "Senator Feinstein said, 'We don't know at this stage.' In light of the comments from Chairman Rogers, it is reasonable for Senator Feinstein to say that we should find out."
But the Snowdenistas find the reasonable unreasonable. They demand nothing less than 24/7 Hero Worship.
Some observers, looking at the possibility that Snowden was in league with the Russian government before taking asylum there, have pointed to a report in a Russian newspaper, Kommersant, that before leaving Hong Kong last June Snowden stayed at the Russian consulate. Snowden's legal adviser, Ben Wizner, a lawyer with the American Civil Liberties Union, denied that report, however, saying, "Every news organization in the world has been trying to confirm that story. They haven't been able to, because it's false."
Snowden told me that having a "go bag" packed—something that Rogers described as highly suspicious—reflected his work deployed overseas for the C.I.A. He'd had a "go bag packed since 2007. It's not an exotic practice for people who have lived undercover on government orders," Snowden said.
Well styles change. Right Q?
"It's not the smears that mystify me," Snowden told me. "It's that outlets report statements that the speakers themselves admit are sheer speculation." Snowden went on to poke fun at the range of allegations that have been made against him in the media without intelligence officials providing some kind of factual basis: " 'We don't know if he had help from aliens.' 'You know, I have serious questions about whether he really exists.' "
Snowden went on, "It's just amazing that these massive media institutions don't have any sort of editorial position on this. I mean these are pretty serious allegations, you know?" He continued, "The media has a major role to play in American society, and they're really abdicating their responsibility to hold power to account."
Unlike you who, according to the Snodenistas should NEVER be held to account – or even questioned about anything.
Asked about this, George Stephanopoulos, the host of ABC's "This Week," defended the coverage. Stephanopoulos pointed out that when the congressman Michael McCaul, a Texas Republican and the chairman of the House Homeland Security Committee, alleged that Snowden was "cultivated by a foreign power" and "helped by others," Stephanopoulos pressed him for details, twice. "I did two follow-ups," Stephanopoulos said, "and got as much as the congressman was going to give up."
Which is more than he usually does with Republicans.
From Moscow, Snowden explained that "Russia was never intended" to be his place of asylum, but he "was stopped en route." He said, "I was only transiting through Russia. I was ticketed for onward travel via Havana—a planeload of reporters documented the seat I was supposed to be in—but the State Department decided they wanted me in Moscow, and cancelled my passport."
As for why he remains there, he said, "When we were talking about possibilities for asylum in Latin America, the United States forced down the Bolivian President's plane." If he could travel without U.S. interference, "I would of course do so."
Oh we know you would Eddie. But where to?
Snowden was adamant that he wants to help, not hurt, the United States. "Due to extraordinary planning involved, in nine months, no one has credibly shown any harm to national security" from the revelations, he said, "nor any ill intent." Moreover, he pointed out that "the President himself admitted both that changes are necessary and that he is certain the debate my actions started will make us stronger."
The problem remains–
"If any individual who objects to government policy can take it into their own hands to publicly disclose classified information, then we will not be able to keep our people safe, or conduct foreign policy," Obama said on Friday. "Moreover, the sensational way in which these disclosures have come out has often shed more heat than light, while revealing methods to our adversaries that could impact our operations in ways that we may not fully understand for years to come." And Obama told David Remnick, in an interview for The New Yorker, that the leaks "put people at risk" and that, in his view, the benefit of the debate Snowden generated "was not worth the damage done, because there was another way of doing it."

In the end, Snowden said that he "knew what he was getting into" when he became a whistleblower. "At least the American public has a seat at the table now," he said. "It may sound trite," but if "I end up disgraced in a ditch somewhere, but it helps the country, it will still be worth it."
Cue Johnny Rivers