(Separated at Birth?)
I'm sure by now you've heard all about Mia Farrow's Anti-Woody jihaad , clearly instigated in order to deprive Cate Blanchett of the Oscar she thoroughly deserves for the Woodman's brilliant Blue Jasmine
But rather than take to the streets to scream, Mia has taken to Nicholas Kristof
Surely the facts are not in dispute
Mia Farrow (born Maria de Lourdes Villiers Farrow; February 9, 1945)[1] is an Australian-Irish-American actress, humanitarian, and former fashion model.
Farrow was born in Los Angeles, California, the fourth child and eldest daughter of Australian film director John Farrow and Irish actress Maureen O'Sullivan. One of seven children: older brothers Michael Namien (1939–1958), Patrick Joseph (1942–2009), John Charles (born 1946); and younger sisters Prudence and actresses Stephanie and TisaEldest brother Michael died in a plane crash in 1958, at age 19. Patrick Farrow, a sculptor, committed suicide in 2009.
Farrow grew up in Beverly Hills, California, where she occasionally put on performances with "toy daggers and fake blood" for passing celebrity tour buses. Aged two, she made her film debut in a short documentary Unusual Occupations: Film Tot Holiday (1947).
She was raised Roman Catholic and "had 13 years of convent education with nuns". When she was nine, she caught polio during an outbreak in Los Angeles reportedly affecting five hundred persons. She was placed in an isolation ward for three weeks and later said the experience "marked the end of my childhood"

To judge from what followed, not really.
Farrow first gained wide acclaim for her role as Allison MacKenzie in the television soap opera Peyton Place
and gained further recognition for her subsequent short-lived marriage to Frank Sinatra.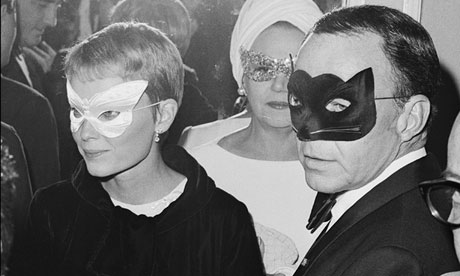 An early film role, as Rosemary in Roman Polanski's Rosemary's Baby (1968), saw her nominated for a BAFTA and a Golden Globe for Best Actress.
She went on to appear in films such as John and Mary (1969), Follow Me! (1972), The Great Gatsby (1974) and Death on the Nile (1978).
Farrow dated actor-director Woody Allen from 1980 to 1992 and appeared in twelve of his thirteen films over that period, most notably Zelig (1983), Broadway Danny Rose (1984), The Purple Rose of Cairo (1985), Hannah and Her Sisters (1986), Radio Days (1987), Crimes and Misdemeanors (1989), Alice (1990) and Husbands and Wives (1992).
Her more recent film roles include Widows' Peak (1994), The Omen (2006), Be Kind Rewind (2008), Dark Horse (2011) and Luc Besson's Arthur series (2006–2010).
IOW not a decent part since the split.
Farrow married singer Frank Sinatra on July 19, 1966. He served her with divorce papers on the set of Rosemary's Baby (1968) after she refused his demand that she quit the film to work on his movie The Detective. The divorce was finalized in 1968.
Also in 1968, Farrow traveled to India, where she spent part of the year at the ashram of Maharishi Mahesh Yogi in Rishikesh, Uttarakhand, studying Transcendental Meditation. Her visit received worldwide media attention because of the presence of all four members of The Beatles, Donovan, and Mike Love, as well as her sister Prudence Farrow, who inspired John Lennon to write the song "Dear Prudence".
In 1970, Farrow married the conductor/composer André Previn after having become pregnant by him while he was married to songwriter Dory Previn. His former wife wrote a scathing song, entitled "Beware of Young Girls", about the loss of her husband to Farrow.
Farrow and Previn had three biological children (twins Matthew and Sascha, and Fletcher). In 1973 and 1976, respectively, they adopted Vietnamese infants Lark Song and Summer "Daisy" Song, followed by the adoption of Soon-Yi (born c. October 8, 1972) from Korea around 1978. Soon-Yi's precise age and birth date are not known, but a bone scan estimated her age as being between 5 and 7 years old at the time of her adoption André and Mia divorced in 1979.
In 1980, Farrow began seeing film director Woody Allen. During their relationship, Farrow starred in many of Allen's films, and several of her relatives also made appearances. Together they adopted Moses "Misha"Farrow and Dylan Farrow. Dylan was known as "Eliza" for a while and later known as "Malone".In 1987, Farrow gave birth to their son Satchel "Seamus"O'Sullivan Farrow, later known as Ronan Farrow.
However, in a 2013 interview with Vanity Fair, Farrow stated that Ronan could "possibly" be the biological child of her first husband Frank Sinatra, with whom she claims to have "never really split up."
Cue the Psycho violins.
Farrow and Allen parted after Farrow reported a sexual relationship between Allen and Soon-Yi. During the subsequent custody battle involving Farrow's and Allen's three children, Farrow filed charges that Allen had molested their daughter Dylan, then seven years old. Allen has adamantly denied the charges. The head doctor of the police-appointed medical team gave sworn testimony that Dylan "either invented the story under the stress of living in a volatile and unhealthy home or that it was planted in her mind by her mother" because of the inconsistent presentation of the story by Dylan.[38] In September 1993, Connecticut State Attorney Frank Maco announced that, while he had "probable cause" to prosecute Allen on charges of sexual molestation of Dylan, he was dropping the case to spare her the trauma of appearing in court. Farrow has been estranged from Soon-Yi since Soon-Yi's 1997 marriage to Allen.
Between 1992 and 1995, Farrow adopted 6 more children: Tam Farrow (born 1979); Quincy Farrow, now known as Kaeli-Shea Farrow; Frankie-Minh (born 1991); Isaiah Justus (born 1992); Thaddeus Wilk Farrow (born 1988); and Gabriel Wilk Farrow, adopted in 1995[and named after Elliott Wilk, the judge who oversaw Farrow's 1993 legal battle with Allen. Her daughter Tam Farrow died of heart failure in 2000 at the age of 19 after a long illness. On December 25, 2008, her daughter Lark Previn died at the age of 35.
As of March 2012, Mia Farrow has thirteen living children (four biological, 9 adopted) and nine grandchildren.
YIKES! Forget Frank, Andre and Woody — could the father in question be . . .Satan?
.