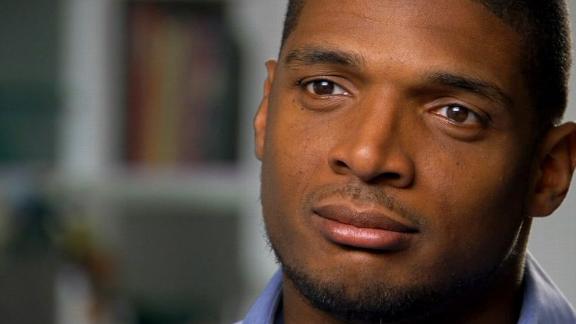 Three of Sam's siblings died while he was young, two more are currently incarcerated. When he visits his hometown, he says he usually stays with friends.
Sam also has a complicated relationship with his father, Michael Sr., the Times reveals.
Michael Sr. told ESPN that he was proud of his son for coming out, but the Times profile suggests that — while he may be very proud — he is still struggling with his son's sexuality:
Last Tuesday, Michael Sam Sr. was at a Denny's near his home outside Dallas to celebrate his birthday when his son sent him a text message.
Dad, I'm gay, he wrote.
The party stopped cold. "I couldn't eat no more, so I went to Applebee's to have drinks," Sam Sr. said. "I don't want my grandkids raised in that kind of environment.
"I'm old school," he added. "I'm a man-and-a-woman type of guy." As evidence, he pointed out that he had taken an older son to Mexico to lose his virginity.
Was this where his life of crime began?
On Sunday night, just after Michael Sam announced his intention to make sports history, his father was still struggling with the news.
Sam Sr. loves his son, and he said he hoped his son made it to the N.F.L. "As a black man, we have so many hurdles to cross," he said. "This is just one he has to cross."
But he expressed discomfort at the very idea of a gay N.F.L. player, even if the player was his son. He grumbled that Deacon Jones, the Hall of Fame defensive end renowned for his toughness, "is turning over in his grave."
Ah yes. Sam Sr. has TWO SONS IN PRISON but the one he's upset about is a football hero who's gay.
Apparently the imprisoned sons aren't gay so there's no problem there.
Kudos to Michael Sam for his honesty forthrightness courage, sports achievements and — given such a family — MANAGING TO STAY OUT OF PRISON.
Sing us out boys.