Surely the facts are not in dispute.
Alain Resnais, the acclaimed French film director whose 60-year career included such classics as Hiroshima Mon Amour and Last Year in Marienbad, has died aged 91.
His death on Saturday, the day after the Césars French cinema awards and on the eve of the Oscars, came as he prepared to launch his latest film, The Life of Riley later this month.
The film, which stars two of his favourite actors – his wife, Sabine Azéma, and André Dussollier – was awarded the Silver Bear Alfred Bauer prize when it premiered at last month's Berlin film festival. It is based on an Alan Ayckbourn; the playwright and his wife witnessed the film-maker's marriage to Azéma in Scarborough.
Pierre Arditi, another member of Resnais's "troupe" of favourite actors, paid tribute to his friend on Sunday. "The most precious thing I can remember is when he would sit crouched on his long legs, resting his head in his hands, and devoured the actors with his lovely blue eyes as though we were diamonds. And of course when you get a look like that you become a diamond," he told France2 television.
The French foreign minister, Laurent Fabius, on Sunday hailed Resnais as "a very great talent" who was "universally known". Other tributes poured in on Twitter.
Resnais's 1959 masterpiece, Hiroshima Mon Amour, was his first feature film , and the experimental Last Year in Marienbad, two years later, identified him with French cinema's New Wave. But Resnais refused to be pigeonholed and went on to direct such diverse movies as Providence (1977), Mon Oncle d'Amérique (1980), and Smoking/No Smoking (1999). His films, which explored the themes of time and memory, death and love, are sometimes complex but never dull.
As those familiar with this blog know, "Surely the facts are not in dispute" is from my favorite Alain Resnais film, the David Mercer-scripted Providence
which besides Bogarde, Warner and Gielgud featured Elaine Strich in the greatest performance of her career (so far).
Stritchy was cast in Providence because Resnais had seen her many time in Company. And that's because in the late 60's he and then-girlfriend Florence Malraux
were spending a great deal of time in New York. I recall running into him o several occasions, the most memorable being the first public screening of Elia Kazan's The Arrangement. "Well let's go," Ms. Malraux said when the end credits came. "No," said M. Resnais "We are going to stay here and see it again!" Here's a clip that explains why.

A massive musical theater enthusiast Resnais saw Stritchy in Company many times.
He also saw
which led to his collaboration with God (seen herewith his boyfriend Jeff)
on a delightful vehicle for Jean-Paul Belmondo
Alain Resnais first made a name for himself with short films — the most celebrated being Night and Fog — a documentary about the Holocaust that in less than a half an hour does more than Claude Lanzmann's Shoah did in six.
It was written by a novelist and Holocaust survivor named Jean Cayrol
who also scripted my second-favorite Resnais Muriel
A massive failure both critically (only Susan Sontag loved it ) and commercially this contemplation of love, loss and the Algerian war has grown in reputation over the years. But when it opened in New York it didn't last a week at a first-run art house.
Resnais had successfully collaborated with novelists on dramatic fetures before, first with Marguerite Duras
then with Alain Robbe-Grillet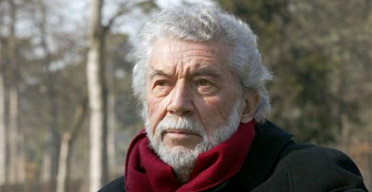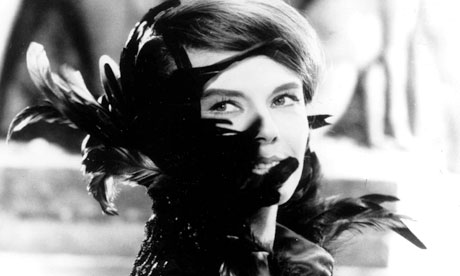 Leave us not forget his films with veteran screenwriter Jean Grualt, my fave being —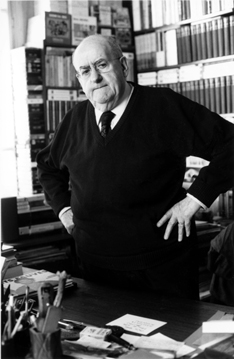 Resnais first collaborated with Grualt on L'Amour a Mort – a film about Death that starred the woman who was to become his wife, Sabine Azema.

It also featured Pierre Arditi
who was to become along with Azema a key member of his acting troupe along with the very beautiful Lambert Wilson
who when require could toss his beauty to the four winds
That was one aspect of Resnais light touch. Here's another —
Alexandrines courtesy of Raymond Queneau

Light yet serious too is this short (my fave) in which the Bibilotheque Nationale becomes the model for the brain itself.
that was written by Remo Forlani
In recent years Resnais was devoted to making filmed theater, principally of the plays of Alan Ayckborn,


In fact his very last films is an adaptation of Ayckborn's play The Life of Riley
He will mourn Resnais along with so many others including his favorite film composer of late, my old Communist Martyrs High compadre Marty Fulterman

There is of course tons more to say about Resnais. But let us close for now with the signature song of a comedian Lambert Wilson tells me Resnais was mad about.
Rather fitting n'est ce pas?