With the Barbara Walters "Farewell" tour kicking into high gear my thoughts (and I trust a great many of yours) turn to –
A Beyond Brilliant comic actress, she did the impossible – through parody she made Barbara Walters palpable. Even tolerable


Its only point of comparison is what Al Pacino, in a deathly serious mode, did with Walters' once-upon-a-time "intended."
A Triumph of The Will & Grace marriage would have been ideal for Baba back in the day. But it was not to be, and she had other plans converting herself into a media figure comparable to (and I swear I'm not in any way kidding) Queen Elizabeth.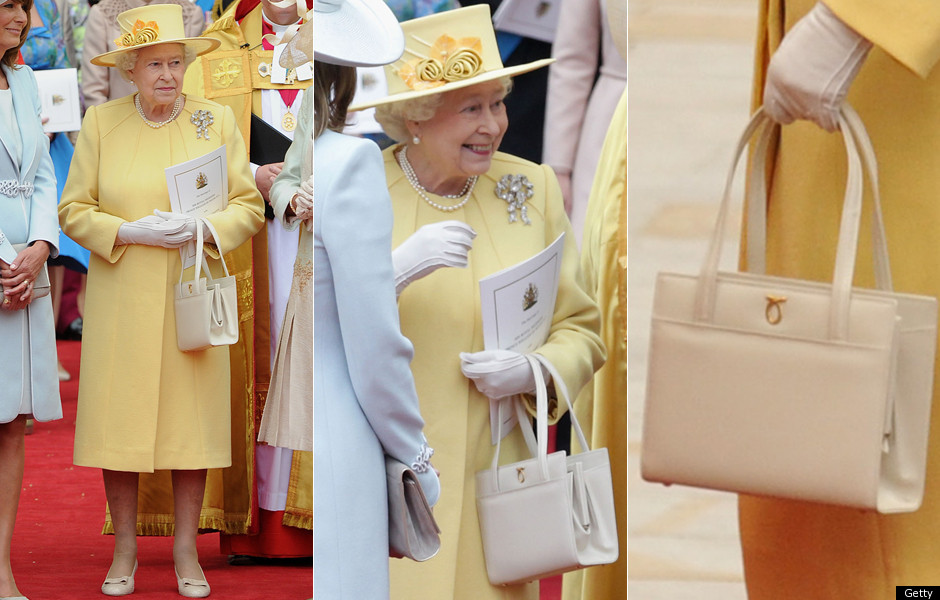 One of the wealthiest carbon-based life-forms on the planet, Queen Elizabeth has burnished her iconographical power by passing herself off as an ordinary middle-class housewife.
The handbag says it all. "Why she's just like my Aunt Martha." Except of course she isn't.
Likewise Barbara Walters has made herself a "celebrity" who interviews other "celebrities" in the unfailingly "polite" manner of a middle-class matron. No wonder she can chat with everyone from Anwar Sadat to V.Stiviano without breaking a sweat. She's going to make the whole process painless for them and "interesting" for us.
The "What kind of a tree?" query typifies this.
We're all just sticks of wood.
Bundled sticks are called "Faggots"
Quite an interesting career trajectory for the daughter of 1950's New York's chicest Mafia-front night club.
Surely the facts are scrumptiously entertaining
Maybe you're too young to remember, but in 1942 a man named Lou Walters opened a night club called the Latin Quarter, on the corner of Broadway and Forty-eighth Street, the kind of place that no longer exists, except, in a way that doesn't quite count, in Las Vegas. Showgirls, acrobats, colored fountains, the works—"a dream," as Walters once put it, "of nights that are carefree and full of beauty." Dapper, slim, London-born, he was a man of mottoes ("Fill them full of food and take their breath away") and edicts ("Never get a suntan that leaves lines"), but his greatest talent may have been his eye for, and guardianship of, what a Latin Quarter program called "exquisite examples of perfect young American womanhood."
When Lou Walters died, in 1977, his daughter Barbara Walters did nothing to memorialize him. She was busy having a miserable time at ABC News, as the first female co-anchor of a network news program. "I was here alone," she recalled the other day. "I wouldn't have known who to call even to arrange a memorial. It was a terrible year for me."
Poor Baba!
But as Wiki notes, she triumphed in the end
Walters first became known as a television personality when she was a writer and segment producer of "women's interest stories" on the morning NBC News program The Today Show, where she began work with host Hugh Downs in 1962, once even modeling a swimsuit when an expected model did not show up. Because of her excellent interviewing ability and her popularity with the viewers, and when other women left the program, she was eventually allowed more air time. Even though her production duties made her a significant contributor to the show, she had no input in choosing a successor for Hugh Downs when he left the show in 1971. Frank McGee was hired. Although his salary was twice hers, at Frank McGee's death in 1974, because of a clause added to her contract by her agent (a family friend), she acquired the title "co-host", the first woman by that title for any network news or public affairs program.Jim Hartz became her co-host. Two years later, continuing as a pioneer for women, she became the first female co-anchor of any network evening news, working with Harry Reasoner on the ABC News flagship program ABC Evening News (List of ABC Evening News anchors).

From 1979 to 2004, Walters worked as co-host and producer for the ABC newsmagazine 20/20, again appearing with Hugh Downs. From 1976 to 2010, she contributed as an anchor, reporter, and correspondent for ABC News, along with producing and hosting her own special interview programs several times yearly. Beginning in 1997, she has created, and appears as co-host on, The View. Walters retired from ABC News and as co-host of The View on May 16, 2014.

In 1996, Walters was ranked #34 on the TV Guide "50 Greatest TV Stars of All Time".
Got that Jill Abramson?
Walters attended Sarah Lawrence College during a notably turbulent time in American politics, the era of communist witch hunts, the Hollywood 10 and the Army-McCarthy hearings. Although she wasn't particularly political at the time, she knew enough to detest McCarthy's henchman, the wily, cold-blooded Roy Cohn. A few years later, her father introduced her to Cohn, telling him his daughter always wanted to meet him. Walters shook his hand, but said to Cohn's face that she never wanted to meet him.
Oh I am SO sure that happened exactly that way!
And yet, they became and remained friends until the day Cohn died of AIDS in 1986. Many of Walters' other friends were horrified that she would even talk to Cohn, but what Walters reveals for the first time in "Audition" is that Cohn somehow got a warrant for her father's arrest dismissed. He had failed to show up for a New York court date because the family was in Las Vegas at the time.
Oh Prunella! The Mob protects its investments, dear. Everybody knows that.
Or should.
Cohn liked to hint that they were more than friends "because I was his claim to heterosexuality," Walters says. "He never said that he was gay, he never admitted to me that he had AIDS. He was a very complicated man. He died, alone, up to his ears in debt. He had been disbarred and he was hated. And I might have thought the same way, but he did something when my father was in trouble, [and] I never forgot that."
And you're a rather uncomplicated woman. Countless women pursue powerful men. But in light of your background the man you wanted is . . .telling.
she, legendarily, pretended to be seeing (romantically) Roy Cohn, the notorious scumbag McCarthyite mob attorney who was also, notoriously, a closeted gay man (who had persecuted closeted "deviants" while working with McCarthy). Cohn was one of the slimiest and most detestable characters of the entire 20th century. He was finally disbarred, in part for his hospital visit to a dying and incapacitated millionaire in which Cohn held up the man's hand and had him "sign" a codicil to his will naming Cohn the trustee of his estate. Despite his moral bankruptcy, Cohn remained a member of elite Washington and New York society his entire life. Walters said she was and remained close to him because he helped her father with a legal matter when she was a girl. But this also seems to explain why they were "dating" in the 1950s:
Did Cohn have a secret "nice" side?
"I would not use the word nice," she laughs. "He was very smart. And funny. And, at the time, seemed to know everyone in New York. He was very friendly with the cardinal, he was very friendly with the most famous columnist in New York, Walter Winchell, he had a lot of extremely powerful friends."
Precisely.
In his rather good biography Citizen Cohn Nicholas Von Hoffman paints a viid picture of Barbara's "dates" with Roy. He would take her to dinner — invariably accompanied by some stud du jour who would eat quietly and not have a thing to say. Not that he could have managed a word-in-edgewise if he'd wanted to, as Barbara was going on and on and on and on about how "lonely" Roy was going to be if he didn't marry and settle down HINT HINT!
Roy nodded sympathetically and after din-din drove Baba home.
He would then repair to his place whereupon the Stud would fuck the living shit out of him.
Von Hoffman "gets" Cohn in just about everything, save G. David Schine (he's the cute one on the left)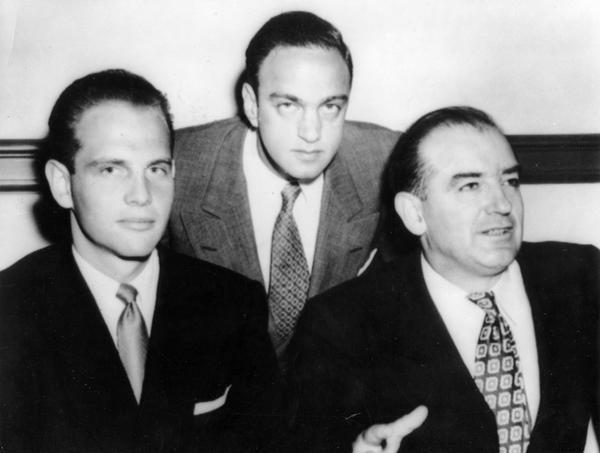 Gerard David Schine, better known as G. David Schine or David Schine (September 11, 1927 – June 19, 1996), was the wealthy heir to a hotel chain fortune who became a central figure in the Army-McCarthy Hearings of 1954 in his role as the chief consultant to the Senate Permanent Subcommittee on Investigations

In 1952 Schine published a six-page anti-communist pamphlet called Definition of Communism, and had a copy placed in every room of his family's chain of hotels. Although the pamphlet contained many errors, it won Schine an introduction to Roy Cohn through newspaper columnist George Sokolsky, and the two became friends. Cohn at that time was Senator Joseph McCarthy's chief counsel, and he brought Schine onto McCarthy's staff as an unpaid "chief consultant". McCarthy era opponents of Communism sought to stamp out pro-Communist material. Schine and Cohn conducted a much-criticised tour of Europe in 1953, examining libraries of the United States Information Agency for books written by authors they deemed to be Communists or fellow travelers. Die Welt of Hamburg called them Schnuffler or snoops. Theodore Kaghan, Deputy Director of the Public Affairs Division in the Office of the U.S. High Commissioner for Germany and a target of the Committee, called them "junketeering gumshoes."
In November 1953, Schine was drafted into the United States Army as a private. Cohn immediately began a campaign to obtain special privileges for Schine. Cohn met with and made repeated telephone calls to military officials from the Secretary of the Army down to Schine's company commander. He asked that Schine be given a commission, which the Army refused due to Schine's lack of qualifications, and that Schine be given light duties, extra leave and not be assigned overseas. At one point, Cohn was reported to have threatened to "wreck the Army" if his demands were not met. During the Army-McCarthy Hearings of 1954, the Army charged Cohn and McCarthy with using improper pressure to influence the Army, while McCarthy and Cohn counter-charged that the Army was holding Schine "hostage" in an attempt to squelch McCarthy's investigations into Communists in the Army.
The hearings were broadcast live using the relatively new medium of television and were viewed by an estimated 20 million people. Just prior to the hearings, Schine and Cohn appeared on the cover of TIME on March 22, 1954, under the banner "McCarthy and His Men".
Schine and Cohn were rumored to have a sexual relationship, although there has never been any proof of this. More recently, some historians have concluded that the two were merely friends, and that Schine was heterosexual. During this period, Schine was linked romantically with some actresses, including Rhonda Fleming and Piper Laurie. Cohn's homosexuality later became public and he died of AIDS in 1986.
The Army-McCarthy hearings absolved McCarthy of any direct wrongdoing, blaming Cohn alone. The exposure of McCarthy and his methods before a television audience, however, is widely considered the beginning of the end of his career. Roy Cohn resigned from McCarthy's staff shortly after the hearings.
Take it away Joseph Welch!
A pivotal moment of modern political theater there's more going on here than meets the eye — or ear. Welch knew perfectly well that an aide who once belonged to a "Communist front" (ie. Liberal) org. would create trouble, so he kept him away from the hearings. McCarthy and everyone else knew this and there was thus a "Gentleman's Agreement" that because Welch had taken these measures the matter was off limits. But McCarthy had no limits. His lack of "decency" related entirely to his disinclination to play by the Beltway "rules" — not the trouble he'd created for others far outside of those allegedly hallowed halls.
As for the Wiki claims that "Schine and Cohn were rumored to have a sexual relationship, although there has never been any proof of this. More recently, some historians have concluded that the two were merely friends, and that Schine was heterosexual" it's Boilerplate Breeder Hysterical Blindness
"We used to sing 'Come Cohn or come Schine' "
For very good reason. As every serious student of history knows the Anti-Communist "Witch Hunt" was in point of fact a "Fag Hunt" as so many leftist were given to "strange twilight urges." Thus an "ex-gay" named Whittaker Chamber did in the otherwise discreetly closeted Alger Hiss (read Lucille LeSeur for the real story)
But the Doxa, Von Hoffman included, will have none of this. As there is "no proof" (a cum-stained dress from the GAP perchance?) nothing happened
So Schine shined it on and Roy was protected as few gays and lesbians have ever been. (eg. Here he is — in profile on the right– with Baba)
Why was thus so? His NYT obit notes –
At the 1983 gathering, for instance, the guest list included such diverse personalities as former Mayor Abraham D. Beame of New York, the former Tammany boss Carmine G. de Sapio, Andy Warhol, Calvin Klein, the Brooklyn Democratic leader Meade H. Esposito, several Federal judges, the lawyer Marvin Mitchelson and Richard A. Viguerie, the publisher of the Conservative Digest, who praised his host as "24-carat, one of life's great Americans."
Mr. Cohn counted among his friends such people as President Reagan (although a Democrat, Mr. Cohn tended to support Republican Presidents), Norman Mailer, Bianca Jagger, Barbara Walters, Rupert Murdoch, William F. Buckley Jr., William Safire, George Steinbrenner, Estee Lauder, Warren Avis and dozens of politicians, Democrats and Republicans alike, at every level, from Cabinet members to county judges.
As a lawyer he represented such diverse clients as Donald Trump and Sam Lefrak, the real-estate executives; Francis Cardinal Spellman and Terence Cardinal Cooke and, on occasion, the Roman Catholic Archdiocese of New York. He also represented Carmine Galante, who before his death was said by authorities to be Mafia "boss of all bosses," and Tony (Fat Tony) Salerno, also said to be a Mafia chieftain.
This is how "The Real World" works, boys and girls. Jungles are more hospitable.
In a postmortem profile Mary Ellen Mark notes
On December 31, 1985, I climbed the red‑carpeted staircase to Roy's foyer for what I knew would be his last New Year's Eve party. Buck Buchholz was playing riffs on the grand piano. Roy, in a white dinner jacket and red bow tie with sequins, huddled with Carmine De Sapio, the aging Tammany Hall boss. Andy Warhol stood in a corner, beside a portrait of Roy by Norris Church, Norman Mailer's wife. Just after midnight, Roy rounded up the hundred guests. "I thank you all for coming, and with great confidence I look forward to seeing you next year. Since our president cannot run for office again, I want you all to know I am available in 1988."
Wishful thinking.
Ken Burdick was by the front door.

"I'm just taking a look so I remember what it was like," I said. "I'm glad to see that old Rolls is still outside."

"Make an offer if you like it so much," he said. "It's for sale."
Once upon a time in a galaxy far far away Ken Burdick was a compatriot of mine. He was the most beautiful boy in The Gay Activists Alliance. His mere presence in a room was enough to spike
membership. (Alas I have no pictures to show you.) Why and how he ended up as Roy Cohn's chauffeur I cannot say. But his saga is of no concern to a culture that takes Glenn Greenwald seriously. Not to mention Baba Wawa.
Rudy Vallee and Rosemary Lane (with an assist from Busby Berkeley ) will sing (and dance) us out with a number that became the signature tune of Lou Walters' club.