And here's what our Lobby Boy discovered —
WASHINGTON (AP) — The Supreme Court ruled Monday that some corporations can hold religious objections that allow them to opt out of the new health law requirement that they cover contraceptives for women.
The justices' 5-4 decision is the first time that the high court has ruled that profit-seeking businesses can hold religious views under federal law. And it means the Obama administration must search for a different way of providing free contraception to women who are covered under objecting companies' health insurance plans
So here in all its. . .uh. . .glory is BURWELL, SECRETARY OF HEALTH AND HUMAN SERVICES, ET AL. v. HOBBY LOBBY STORES, INC., ET AL.
Contraception is among a range of preventive services that must be provided at no extra charge under the health care law that President Barack Obama signed in 2010 and the Supreme Court upheld two years later.
Two years ago, Chief Justice John Roberts cast the pivotal vote that saved the health care law in the midst of Obama's campaign for re-election. On Monday, dealing with a small sliver of the law, Roberts sided with the four justices who would have struck down the law in its entirety.
Justice Samuel Alito wrote the majority opinion. The court's four liberal justices dissented.
Led by –
The court stressed that its ruling applies only to corporations that are under the control of just a few people in which there is no essential difference between the business and its owners, like the Oklahoma-based Hobby Lobby chain of arts-and-craft stores that challenged the provision.
Alito also said the decision is limited to contraceptives under the health care law. "Our decision should not be understood to hold that an insurance-coverage mandate must necessarily fall if it conflicts with an employer's religious beliefs," Alito said.
PULL MY OTHER LEG — IT'S GOT BELLS ON!!!!!
He suggested two ways the administration could ensure women get the contraception they want. It could simply pay for pregnancy prevention, he said.
Or it could provide the same kind of accommodation it has made available to religious-oriented, not-for-profit corporations. Those groups can tell the government that providing the coverage violates their religious beliefs. At that point, the groups' insurers or a third-party administrator takes on the responsibility of paying for the birth control.
The accommodation is the subject of separate legal challenges, but the court said Monday that the profit-seeking companies could not assert religious claims in such a situation.
Yadda, yadda, yadda.
Alleged "Liberal Swing Voter" Justice Anthony Kennedy
who was part of the majority, also wrote separately to emphasize that the administration can solve its problem easily. "The accommodation works by requiring insurance companies to cover, without cost sharing, contraception coverage for female employees who wish it," Kennedy said. He said that arrangement "does not impinge on the plaintiffs' religious beliefs."
Houses of worship and other religious institutions whose primary purpose is to spread the faith are exempt from the requirement to offer birth control.
But that's not what the complaint was about. The complaint was about Hobby Lobby's insistence that its "beliefs" rule the whole fucking world.
Much like the Catholic Church.
In a dissent she read aloud from the bench, Justice Ruth Bader Ginsburg called the decision "potentially sweeping" because it minimizes the government's interest in uniform compliance with laws affecting the workplace. "And it discounts the disadvantages religion-based opt outs impose on others, in particular, employees who do not share their employer's religious beliefs," Ginsburg said.
Here — read what she had to say. It's quite lengthy — and more than worth your time.
But if you want The Skinny,
HERE
"In the Court's view, RFRA demands accommodation of a for-profit corporation's religious beliefs no matter the impact that accommodation may have on third parties who do not share the corporation owners' religious faith—in these cases, thousands of women employed by Hobby Lobby and Conestoga or dependents of persons those corporations employ. Persuaded that Congress enacted RFRA to serve a far less radical purpose, and mindful of the havoc the Court's judgment can introduce, I dissent."

"Until today, religious exemptions had never been extended to any entity operating in 'the commercial, profit-making world."

"The reason why is hardly obscure. Religious organizations exist to foster the interests of persons subscribing to the same religious faith. Not so of for-profit corporations. Workers who sustain the operations of those corporations commonly are not drawn from one religious community. Indeed, by law, no religion-based criterion can restrict the work force of for-profit corporations…The distinction between a community made up of believers in the same religion and one embracing persons of diverse beliefs, clear as it is, constantly escapes the Court's attention. One can only wonder why the Court shuts this key difference from sight."
As one might expect Justice Samuel Alito
didn't take kindly to this
As this description of our reasoning shows, our holding is very specific. We do not hold, as the principal dissent alleges, that for-profit corporations and other commercial enterprises can "opt out of any law (saving only tax laws) they judge incompatible with their sincerely held religious beliefs." Post, at 1 (opinion of GINSBURG, J.). Nor do we hold, as the dissent implies, that such corporations have free rein to take steps that impose "disadvantages . . . on others" or that require "the general public [to] pick up the tab." Post, at 1–2. And we certainly do not hold or suggest that "RFRA demands accommodation of a for-profit corporation's religious beliefs no matter the impact that accommodation may have on . . . thousands of women employed by Hobby Lobby." Post, at 2.1 The effect of the HHS-created accommodation on the women employed by Hobby Lobby and the other companies involved in these cases would be precisely zero. Under that accommodation, these women would still be entitled to all FDA-approved contraceptives without cost sharing.
Well you know how it goes, Sam –
Meanwhile in Salon Katie McDonough notes –
Analysis of the case has so far called this a limited ruling because it only applies to closely held corporations and "only" impacts contraceptive coverage. But this framing completely ignores the fact that more than 90 percent of corporations in the United States are closely held, and that the court just effectively ruled that it's fine for employers to discriminate against half of the labor force. There's nothing limited about it. As Justice Ruth Bader Ginsburg noted in her powerful dissent, far from being narrow in its ruling, the high court just "ventured into a minefield."
The religious owners of these companies have medically inaccurate ideas about contraception and abortion, and they now get to impose those ideas on the the people who work for them. In the majority opinion, five male justices argued that the Department of Health and Human Services can fill in the gaps in coverage created by this ruling by including for-profit companies in the accommodation system created for religious nonprofits and other explicitly faith-based organizations. Women's health, it seems, has become someone else's problem.
This is certainly bad news for the women who work at both of these places, but it's bad news for the rest of us, too. The ruling sends a strong message that women's health and women's rights — as individuals and employees — do not matter as much as so-called religious liberty.
It also shows once again that medically inaccurate ideas about healthcare can dictate the terms of a debate and ultimately win the day. Writing for the majority, Justice Samuel Alito argued that contesting Hobby Lobby's claim that contraception is the same thing as abortion — an idea that has been refuted time and again by medical providers and associations — "in effect tells the plaintiffs that their beliefs are flawed."
Which of course they are. But like Hobby Lobby the ruling Supremes believe that contraception is abortion.
If you think this ruling won't affect you, you haven't been paying attention. If you think these corporations are going to stop at birth control, you're kidding yourself.
Quite true. But regarding abortion the ruling Supremes — like all anti-abortion fanatics — regard women as a necessary inconvenience.
See? "It's all technical — you wouldn't understand."
Just lie back and enjoy it, ladies. You're not an individual — you're a household appliance. And this is why Hillary Clinton so upsets the status quo. It's not her "beliefs" whatever they may be. it's that she owns and operates a vagina.
As upsetting to contemplate as President Obama's pigmentation
So what is to be done about –
How's about a little BENGHAZI?!!!!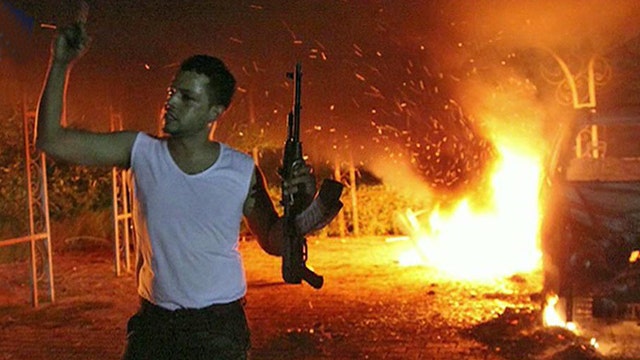 Take it away Daria!