Surely the facts TAKE THE CAKE !
Melissa and Aaron Klein — the Oregon bakers and self-proclaimed "religious freedom" fighters who made headlines last year when they refused to serve a lesbian couple (and claimed their homophobic religious beliefs allowed them to violate the state's nondiscrimination law) — are in the news again.
This time, it's because of a posting on the Sweet Cakes by Melissa Facebook page proudly displaying cakes they baked for the Restored Hope Network, an "ex-gay" organization that advocates for the discredited and dangerously abusive practice of "reparative therapy."
The Advocate reports:
"Cakes for Restored Hope Network. What a wonderful ministry!" the caption to a photo of five cakes adorned with the group's logo read, in addition to offering a link to the antigay group.
Restored Hope, which is helmed by "ex-lesbian" Anne Paulk, rose to prominence after the demise of Exodus International, formerly one of the most prominent ex-gay groups in the nation advocating for the belief that gay people can be turned straight through prayer, counseling, and "treatment."
I trust we all recall Anne, and her hubster John, when they were big deal "Ex-Gay" celebs.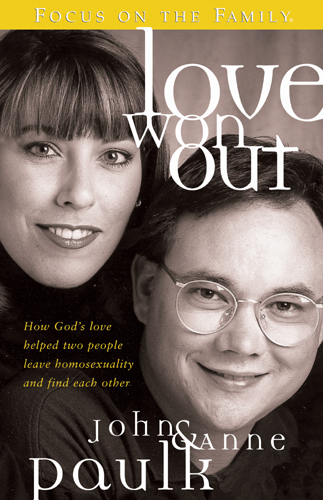 They even made the cover of Newsweek.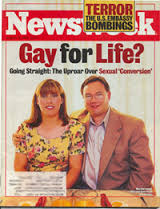 But then John was discovered looking for love (or something just like it) at a Dupont Circle gay bar. And before you know it he dumped the sham, dumped Anne and got himself a much better hair-do.
(Back to the bakery)
So they won't bake a cake for loving gay couples, but they will gladly bake cakes for an organization that tells gay people that they are broken, sick, sinful, and in need of "repair." Classy, no?
Maybe this decoration might be useful to them — symbolizing the "impossibility" of gay marriage.
Cause if this bakery can't stop gay marriage that means — (Brace Yourselves!)
It's not surprising, though: last year, when the bakery first made news for refusing to serve gay couples, reporters from the Willamette Week newspaper decided to test the depth of the Kleins' religious beliefs by getting price quotes for other "non-Christian" occasions like solstice parties, celebrations of divorce and unwed parenting, and non-kosher barbecues.

The bakery was more than happy to provide baked goods for each.
Love to see their solstice cake!
Take it away Will!