Surely the facts are. . . . SAY WHAT???!!!!
Police are searching a Berkshire property belonging to Sir Cliff Richard in relation to an alleged historical sex offence. No arrests have been made and Sir Cliff, who is not at the property, said the allegation was "completely false".
Police spokesman Det Supt Matt Fenwick said the allegation involved a boy under 16 and dated from the 1980s in the South Yorkshire area.
I'm sure the boy was just a "camp follower."
The search in Sunningdale is being carried out by South Yorkshire Police.
The investigation is not connected to Operation Yewtree and police said officers from that operation – set up by the Metropolitan Police to investigate hundreds of allegations in the wake of the Jimmy Savile scandal – had been notified.
Thames Valley Police said it had assisted the South Yorkshire force with the execution of a search warrant at the property.
Eight plain-clothed police officers in five unmarked cars arrived to conduct the search.
The BBC's Dan Johnson said it had not yet been possible to get a response from Sir Cliff or his representatives.
No doubt Sir Cliff and his solicitor are "getting their story straight" before presenting it to the authorities.
And according to the BBC's Tom Burridge in the Algarve, Portugal, the singer left his home there on Thursday morning and has travelled with his sister to another part of Portugal for a few days.
The singer, born Harry Webb, is one of the most successful British musicians of all time.
He has sold 21.5 million singles – more than any other male British artist – and is the only performer to have had at least one UK top five album in each of the last seven decades.
He has represented the UK in the Eurovision song contest twice and in 2013 released the 100th album of his career.
He was knighted in 1995 and performed at the Queen's Diamond Jubilee concert at Buckingham Palace in 2012.
And he was in the news earlier this year, when —
Cliff Richard has admitted speculation about his sexuality hurt his family – but insists gay rumours "don't matter" to him.
Well Cliff's sexuality has always mattered to any number of people. Consider David Hockney.
One of his most famous early works "We Two Boys Together Clinging"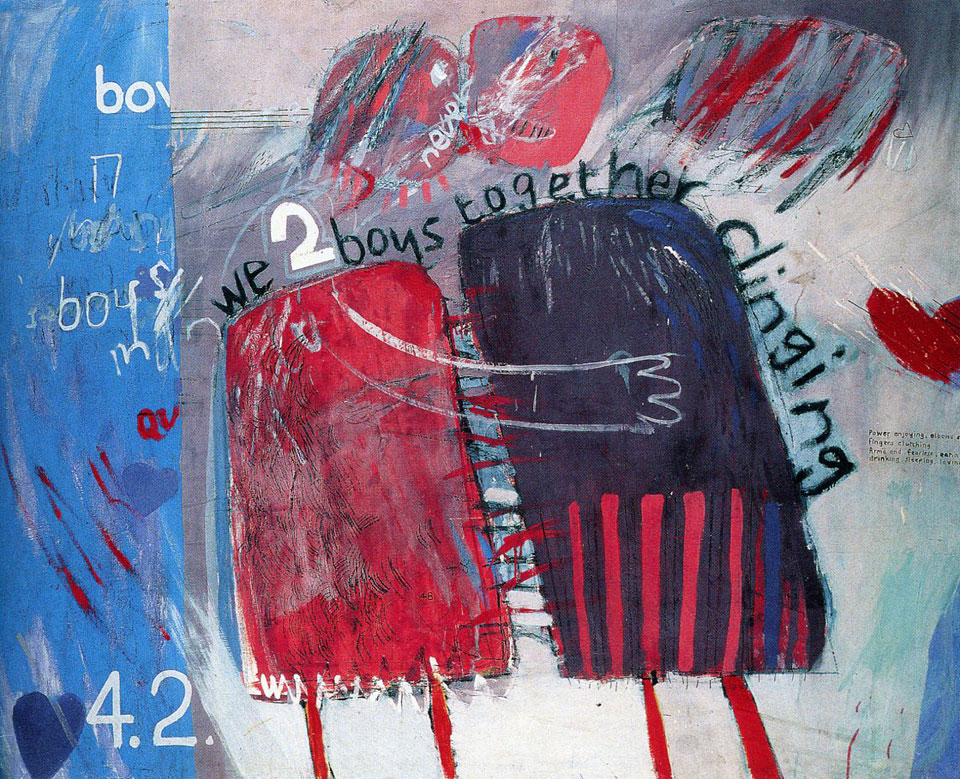 was inspired by Richard who Hockney found "very attractive, very sexy." So much so that when he read a headline about a mountain-climbing accident — "Two Boys Cling To Cliff All Night" — he thought it was about a three-way with Cliff Richard. Cliff doesn't appear in the resultant painting , which evokes Walt Whitman. But he was the subject of another Hockney work "Doll Boy."
The 73-year-old singer spoke only of female relationships in his 2008 autobiography "My Life, My Way," but said he had never found "the right time" to get married in a revealing new interview.
Speaking on Australian TV show "A Current Affair" he tackled the questions surrounding his private life.
Asked if the gossip about his sexual orientation hurt him, the chart-topping star replied: "No. It did when I was young. It hurt my family a lot, of course. But who cares?
"It doesn't really matter to me any more. I have got gay friends. Most people have gay friends. If I was gay would it make any difference? Would you not come to my concerts because I was gay? I hope not."
Rumours about Cliff's private life have dogged him for decades. A relationship he has with John McElynn, a former priest who looks after his homes in Britain, Barbados and Portugal, has fuelled the speculation.
In a previous interview, Cliff revealed that the pair became close about eight years ago and he asked Mr McElynn to become his travelling companion.
But before that Cliff was linked to a number of women including actress Olivia Newton John, TV host Sue Barker and Una Stubbs.
And here's Olivia to help Harry Webb sing us out.