Omar Gonzalez jumped the white house fence
WASHINGTON (Reuters) – U.S. Secret Service Director Julia Pierson said on Tuesday the recent White House breach by a man carrying a knife was unacceptable and promised "it will never happen again."
"It is clear that our security plan was not executed properly," Pierson said in prepared testimony to a House of Representatives committee investigating the Sept. 19 intrusion.
IOW The Secret Service Jumped the Shark
A shame the Fonz isn't working for them
The man who jumped the White House fence this month and sprinted through the front door made it much farther into the building than previously known, overpowering one Secret Service officer and running through much of the main floor, according to three people familiar with the incident.
An alarm box near the front entrance of the White House designed to alert guards to an intruder had been muted at what officers believed was a request of the usher's office, said a Secret Service official who spoke on the condition of anonymity.
The officer posted inside the front door appeared to be delayed in learning that the intruder, Omar Gonzalez, was about to burst through. Officers are trained that, upon learning of an intruder on the grounds — often through the alarm boxes posted around the property — they must immediately lock the front door.
After barreling past the guard immediately inside the door, Gonzalez, who was carrying a knife, dashed past the stairway leading a half-flight up to the first family's living quarters. He then ran into the 80-foot-long East Room, an ornate space often used for receptions or presidential addresses.
Gonzalez was tackled by a counterassault agent at the far southern end of the East Room. The intruder reached the doorway to the Green Room, a parlor overlooking the South Lawn with artwork and antique furniture, according to three people familiar with the incident.
Though looking nothing like her,
Omar puts me in mind of Grandma Ida
Would that have been the scene had Omar gotten upstairs to the girls' rooms?
So who is Omar Gonzalez? Well might you ask!
He was born in Puerto Rico, but moved to the United States at a young age. And according to his ex-wife, Samantha Bell, he always wanted to join the Army.
"It's all he wanted to do since he was little boy, is be in the military and fight for his country," Bell said in a telephone interview with NBC's Indianapolis affiliate WHTR on Monday. Bell was married to Gonzalez from 2006 until July 2014, after a period of separation.
The Army says Gonzalez first enlisted from July 1997 to September 2003, then reenlisted in July 2005 and served until his retirement in late 2012, serving in Iraq from October 2006 to January 2008. He suffered at least one physical injury, a mangled foot due to an IED, and was honorably discharged.
But he also suffered psychologically, family and friends have said.

"It was his second tour and I noticed that he was doing a lot of things that were making me uncomfortable — I knew he would never harm me (but) I know whatever happened in Iraq, it affected him," Bell said.
"Looking back I wish there was something I could do to help him. He's not a bad guy. He needs to get treatment," she said.
Neighbors in the Copperas Cave, Texas, neighborhood were Bell and Gonzalez lived, said that children loved him, but they disturbed him.
"He told me the kids made him nervous, that when he was in combat, kids had bombs strapped to them," Elke Warner, a 49-year-old corrections officer who lived down the street, told the Los Angeles Times.
A family member who did not want to be identified until the completion of the Secret Service investigation told the L.A. Times that Gonzalez had been depressed for a while.
"We talked to him on 9/11 and he said he planned to go to a Veterans Administration hospital to seek treatments," said the family member. "He's been depressed for quite some time. He'd been taking antidepressants and anti-anxiety medication."
The military does not provide details about a soldier's disability due to privacy rights. Department of Veterans Affairs records show Gonzalez began receiving $1,652 monthly in disability compensation in February from the Veterans Benefits Administration, according to a VA spokesperson. "It does not appear the veteran sought treatment in any VA healthcare facility," the spokesperson said.

What's going to happen to him now?
In Gonzalez's first federal court appearance since the Friday incident, Assistant U.S. Attorney David Mudd said the suspect was "a danger to the president," and a judge ordered him held without bail until October 1.
He is facing charges of unlawfully entering a restricted building or grounds while carrying a deadly or dangerous weapon — a nearly four-inch knife, in his case. That charge carries a sentence of up to ten years.
But federal prosecutors also revealed that Gonzalez had been detained at least twice before this incident.
Prosecutors revealed that he had been stopped on August 25 while walking along the south fence of the White House with a hatchet in his waistband, but he was not arrested.
And on July 19, after being spotted driving recklessly in a gray Ford Bronco, Gonzalez was charged in Wythe County, Virginia, with evading arrest and possession of a weapon after he was found in possession of 11 weapons, including a sawed-off shotgun, assault rifles and knives, and map — with the White House circled, prosecutors said.
The Virginia State Police say they did notify the ATF and Secret Service about their arrest at the time. On Monday neither government nor defense attorneys requested a mental health screening for Gonzalez.
So much for him. The more important question is what's going to happen to the Secret Service. Cause frankly THEY SUCK — and have for years.
The myth of Secret Service invincibility is the lynchpin of Kennedy Conspiracy Theories. They were supposedly so powerful and omnipotent that it MUST have been "an inside job"
or something.
But the simple fact of the matter is they couldn't scope out Dealy plaza.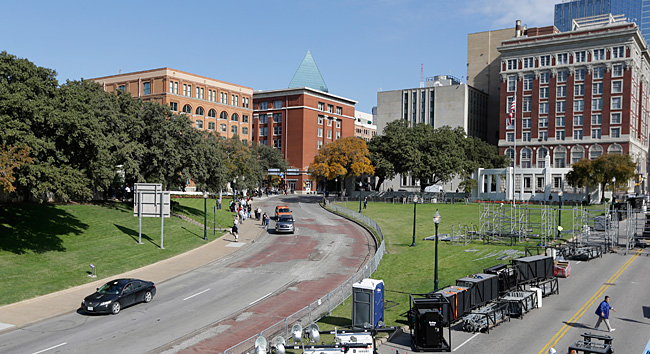 If you've ever been there and seen it then you know that wacking JFK from the window of the School book depository
was far easier than shooting fish in a barrel.
We need another org in charge to chase Grandma Ida away — Right Johnny?