Surely the Stats are not in dispute.
Elvis Presley, as depicted in Warhol's 1963 painting, looked ready for a shootout, staring at the viewer with his gun pointed. But there was no need to pull the trigger: The singer beat out Warhol's Marlon Brando, along with 78 other works Christie's had packed into its contemporary art sale on Wednesday night in Manhattan. While Elvis took home the evening's top price — selling for nearly $82 million — it was just one big number in a night filled with soaring prices.
Christie's had put together a banquet — 80 works total, 22 of them expected to sell for more than $10 million and nine poised to bring more than $20 million each. It managed to pull it off.
"It's our highest total ever," said Brett Gorvy, Christie's worldwide chairman of postwar and contemporary art. "We saw a lot of new bidders tonight from the Middle East and Asia, but the biggest and most powerful buyers were still from America."
For months before the sale, experts at Christie's had been marketing the auction as an event filled with once-in-a-lifetime pieces. It worked. Some of this country's biggest collectors came to watch the action, including Michael Ovitz, a former Hollywood agent; J. Tomilson Hill, the vice chairman of Blackstone Group; Andrew Saul, a New York businessman; and the Chicago collector Stefan Edlis. The sale totaled $852.9 million, well above its high $836 million estimate. Only five works failed to sell. The evening also trampled Sotheby's sale on Tuesday, which was a smaller auction (78 lots) that brought $343.6 million. (Final prices include the buyer's premium: 25 percent of the first $100,000; 20 percent of the next $100,000 to $2 million; and 12 percent of the rest. Estimates do not reflect commissions.)
WestSpiel, the government-controlled German casino company, was the seller of the two Warhols. The paintings had been hanging in its casino in Aachen since the late 1970s. Both were bought by unidentified telephone bidders. "Triple Elvis (Ferus Type)," taken from a publicity shot for his 1960 movie "Flaming Star," showed Elvis in three overlapping images and had been expected to sell for around $60 million. "Four Marlons," from 1966, based on a film still from the 1953 movie "The Wild One," sold for $69.6 million. That too had been expected to sell for around $60 million. The image — Brando in a leather jacket leaning forward on his motorcycle looking the epitome of cool and seductive — is one of the actor's most famous. Still, neither Warhol beat the $104.5 million paid at Sotheby's a year ago for "Silver Car Crash (Double Disaster)," a two-panel Warhol from 1963.
This is not a Warhol: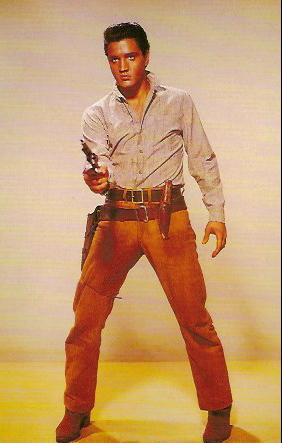 It was the multiplication factor — that Christie's had two major Warhol stars for sale in one evening — that gave the auction heft and helped propel prices, especially for other classic images from the 1960s and early 1970s. One of Twombly's signature blackboard paintings, being sold by Nicola del Roscio, the artist's former assistant and archivist who is now president of the Cy Twombly Foundation, had the sale's most active bidding. Five people chased after the canvas, which is filled with the artist's signature loops. While it was expected to sell for $35 million to $55 million, it went to a telephone bidder for $69.6 million.
Andy Warhol (né Andrej Varhola, Jr.) was born on August 6, 1928 in Pittsburgh, Pennsylvania.He was the fourth child of Andrej Varhola (Americanized as Andrew Warhola, Sr., 1889–1942) and Júlia (née Zavacká, 1892–1972), whose first child was born in their homeland and died before their move to the U.S. Andy had two older brothers, Paul (June 26, 1922 – January 30, 2014) and John Warhola (May 31, 1925 – December 24, 2010).
His parents were working-class emigrants from Mikó (now called Miková), located in today's northeastern Slovakia, part of the former Austro-Hungarian Empire. Warhol's father immigrated to the United States in 1914, and his mother joined him in 1921, after the death of Warhol's grandparents. Warhol's father worked in a coal mine. The family lived at 55 Beelen Street and later at 3252 Dawson Street in the Oakland neighborhood of Pittsburgh. The family was Byzantine Catholic and attended St. John Chrysostom Byzantine Catholic Church. Andy Warhol had two older brothers—Pavol (Paul), the oldest, was born before the family emigrated; Ján was born in Pittsburgh. Pavol's son, James Warhola, became a successful children's book illustrator. About 1939, he started to collect autographed cards of film stars.
In third grade, Warhol had Sydenham's chorea (also known as St. Vitus' Dance), the nervous system disease that causes involuntary movements of the extremities, which is believed to be a complication of scarlet fever which causes skin pigmentation blotchiness. He became a hypochondriac, developing a fear of hospitals and doctors. Often bedridden as a child, he became an outcast at school and bonded with his mother. At times when he was confined to bed, he drew, listened to the radio and collected pictures of movie stars around his bed. Warhol later described this period as very important in the development of his personality, skill-set and preferences. When Warhol was 13, his father died in an accident.
As a teenager, Warhol graduated from Schenley High School in 1945. After graduating from high school, his intentions were to study art education at the University of Pittsburgh in the hope of becoming an art teacher, but his plans changed and he enrolled in the Carnegie Institute of Technology in Pittsburgh, where he studied commercial art. In 1949, he moved to New York City and began a career in magazine illustration and advertising. In 1949, he earned a Bachelor of Fine Arts in pictorial design.
Andy was born to dire poverty. He never forgot what Welfare meant to his mother and the rest of the family. Hence he was a lifelong Democrat.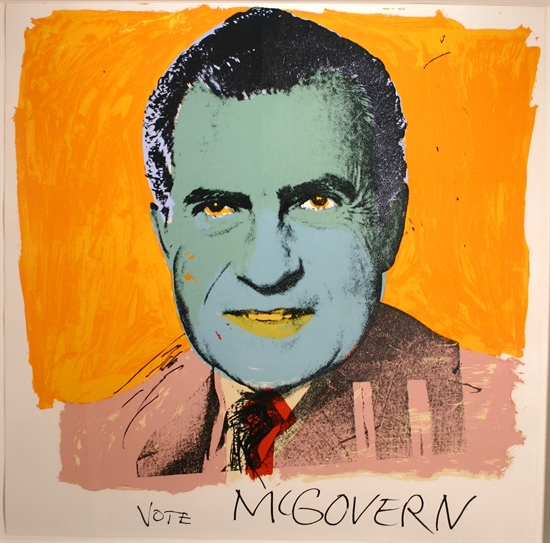 Thanks to the likes of Paul Morrissey and Bob Collacello he became Reagan intimate — alas. Consequently the conversion of his work into pure hard cash was inevitable.
Not that this hasn't been the fate of others.
Christie's has had quite a track record with Francis Bacon and was capitalizing on the huge prices it has been able to get, most prominently "Three Studies of Lucian Freud," the triptych that Elaine Wynn bought for $142.4 million a year ago.
On Wednesday night it was selling "Seated Figure," a 1960 Bacon estimated to bring $40 million to $60 million.
Part of the artist's series of paintings inspired by Velázquez's portrait of Pope Innocent X, it had last been up for sale at Christie's in London in 1996, where it brought $2.5 million. The buyer then — and the seller on Wednesday night — was said to be the Belgium dealer Pierre Salik. But Wednesday night there was only one bidder, and it sold for nearly $45 million.
A navy blue canvas with the word "Smash" in yellow, which Ed Ruscha painted in 1963, was among the evening's most sought after. Five bidders went for it, and it ended up being purchased by Larry Gagosian, the Manhattan super-dealer, for $30.4 million, well over its $20 million high estimate.
Mr. Gagosian also bought a self-portrait by Martin Kippenberger, from 1988, which shows the artist in his underwear, for $22.5 million, its high estimate.
After the sale, David Ganek, the Manhattan financier, looked particularly pleased, having been the only bidder on a group of 21 of Cindy Sherman's "Untitled Film Stills" being sold by Mitchell P. Rales, a Washington collector and industrialist, and his wife, Emily, founders of Glenstone, the contemporary art museum in Potomac, Md. Mr. Ganek paid $6.7 million. "It's one of the greatest examples of photography from the late 1970s until 1980," Mr. Ganek said.
Asked what he thought of the entire auction, he paused and added, "The quality of the sale was epic."
The quantity of the money was even more epic.
Elvis will sing us out.