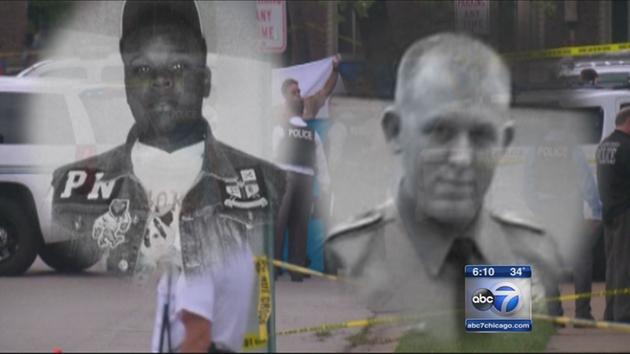 Surely the facts are not in dispute
Yeah, right.
Chaos returned to the streets of Ferguson after a grand jury declined to indict a white police officer in the death of Michael Brown — a decision that enraged protesters who set fire to buildings and cars and looted businesses in the area where the unarmed, black 18-year-old was fatally shot.
No surprise whatsoever. CNN is doubtless delighted.
Monday night's destruction appeared to be much worse than protests after August's shootings, with more than a dozen businesses badly damaged or destroyed. Authorities reported hearing hundreds of gunshots, which for a time prevented fire crews from fighting the flames.
There were 61 arrests in Ferguson overnight, many for burglary and trespassing, St. Louis County Police spokesman Brian Schellman said. St. Louis Mayor Francis Slay said there were 21 arrests in the city, where some protesters broke business windows along South Grand Avenue.
And now a few words form the man whose very existence has ignited those racial tensions.
Obama's election was seen as "the end of racism" — by racists. His calm assured competence has driven white America crazy.
Prosecuting Attorney Bob McCulloch said the jury of nine whites and three blacks met on 25 separate days over three months, hearing more than 70 hours of testimony from about 60 witnesses, including three medical examiners and experts on blood, toxicology and firearms.
As McCulloch read his statement, Michael Brown's mother, Lesley McSpadden, sat atop a vehicle listening to a broadcast of the announcement. When she heard the decision, she burst into tears and began screaming before being whisked away by supporters.
The crowd with her erupted in anger, converging on the barricade where police in riot gear were standing. They pushed down the barricade and began pelting police with objects, including a bullhorn. Officers stood their ground.

McCulloch never mentioned that Brown was unarmed when he was killed.
Let's repeat that shall we?
MCCULLOCH NEVER MENTIONED THAT BROWN WAS UNARMED WHEN HE WAS KILLED!!!!
Wilson told jurors that he initially encountered Brown and a friend walking in a street and, when he told them to move to a sidewalk, Brown responded with an expletive. Wilson then noticed that Brown had a handful of cigars, "and that's when it clicked for me," he said, referring to a radio report minutes earlier of a robbery at a nearby convenience store.
As we all know stealing cigars is a capital offense punishable by death.
There is considerable controversy about whether Brown stole the cigars at all. He did get into a tussle of some sort with someone at the store — as the video the authorities were ever-so-quick to supply has shown. Getting this video out was obviously more important than moving Brown's body which lay in the street for four hours.
Wilson said he asked a dispatcher to send additional police, and then backed his vehicle up in front of Brown and his friend. As he tried to open the door, Wilson said Brown slammed it back shut.
How rude!
The officer said he pushed Brown with the door and Brown hit him in the face. Wilson told grand jurors he was thinking: "What do I do not to get beaten inside my car."
"I drew my gun," Wilson told the grand jury. "I said, 'Get back or I'm going to shoot you.'
Is announcing prior to firing Standard Operational Procedure?
"He immediately grabs my gun and says, 'You are too much of a pussy to shoot me,'" Wilson told grand jurors. He said Brown grabbed the gun with his right hand, twisted it and "digs it into my hip."
And as we know "He grabbed for my gun" is right up there with "The check is in the mail" and "I promise not to come in your mouth"
Asked why he felt the need to pull his gun, Wilson told grand jurors he was concerned another punch to his face could "knock me out or worse."
What a pussy!
After shots were fired in the vehicle, Brown fled and Wilson gave chase. At some point, Brown turned around to face the officer.

Witness accounts were conflicted about whether Brown walked, stumbled or charged back toward Wilson before he was fatally wounded, McCulloch said. There were also differing accounts of how or whether Brown's hands were raised. His body fell about 153 feet from Wilson's vehicle.
This is where McCullough's account gets vague. In his speech me mentioned witnesses whose testimony was "inaccurate" or could not be trusted for some reason or another. No guessing as to what that reason was. McCullough was ever-so-clever not to mention it.
The Justice Department is conducting a separate investigation into possible civil rights violations that could result in federal charges, but investigators would need to satisfy a rigorous standard of proof in order to mount a prosecution. The department also has launched a broad probe into the Ferguson Police Department, looking for patterns of discrimination.
McCullough has been chastised several times in this regard. No surprise that he empanelled a grand jury not to indict but to exonerate
Regardless of the outcome of those investigations, Brown's family could also file a wrongful-death lawsuit against Wilson.
Which could well drive him into penury. A small but necessary consolation.
There were about 25 fires set overnight, and 10 cars burned at a dealership, Ferguson Assistant Fire Chief Steve Fair told local media. A pizza shop, beauty supply store and two auto parts stores were among those burned.
"Those are dreams," Johnson said. "Those are small-business owners, and we've torn those dreams away."
Michael Brown can no longer dream.
And now, Joseph L. Mankiewicz.