Rick Owens
isn't exactly Ken Russell
PARIS — If anatomy is destiny, Rick Owen's show, held Thursday amid a selection of provocative paintings by the poet John Giorno and the artist Chan Aye at the Palais de Tokyo, Paris's premier contemporary art museum, is destined to be remembered for some startling glimpses of the male anatomy.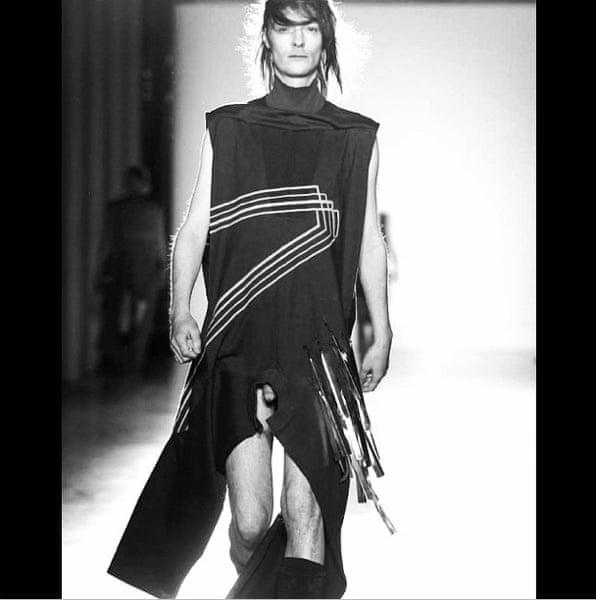 Phone cameras rapidly clicked and viewers began nudging one another when, roughly midway through the presentation, a group of models came stomping down the runway in tunic-like garments strenuously deconstructed and rearranged so what would be a lapel or collar formed a tube or keyhole near the crotch. Shifting in motion, the garments revealed that, beneath the tunics, the models were as nature made them.
Who knows why, but Paris uniquely provides for moments like this one, with more ideas generally encountered during a day here than a week in Milan or New York. There were others in what was actually a fairly conservative show for Mr. Owens: one involving a series of somber double-breasted coats of wool or leather, deeply notched at the sides or billowing from the yoke; of unusually plausible — for him — bifurcated footgear; and of itchy-looking boiler suits knitted as if by some demented granny.
But it was the flashing that the show will be remembered for, even though it came at a time when in art or movies or onstage genital display has largely lost the power to shock. Seldom in memory have traditional notions of what constitutes gender been so strenuously contested. By deliberately exposing a few pendant bits of flesh, Mr. Owens seemed to be suggesting how tenuous and vulnerable are the basis for what we think of as masculinity.
Others, like Miuccia Prada, have recently been toying with these notions, showing clothes for both men and women at the same time and on models of vaguely indeterminate sex. Raf Simons did something similar for his presentation on a cold evening in a warehouse on the outskirts of Paris. Viewers crowded around a raised steel platform to view models wearing, mostly, sleeveless cotton coats or gilets of nearly floor length, many covered with slogans and cartoon graffiti, gliding past to an aural backdrop of Deep Purple's "Child in Time."
Though this was the first time the designer used women in a Raf Simons show, that particular novelty wasn't the point he seemed to be trying to make. The pale scrawny boy models, hair slicked down like geeks, looked fairly interchangeable with the pale scrawny girl models like the Belgian Hanne Gaby Odiele. All had the same uncooked look of late adolescence, a time when everything to do with future sexuality still seems in germination.
And it makes sense at a time when transgender issues have moved squarely into the mainstream — can anyone recall another period when an Oscar-nominated and bankable young male star might choose as his next project a movie about a transgender artist, as Eddie Redmayne will do in Tom Hooper's adaptation of David Ebershoff's novel "The Danish Girl"? — that fashion would get the message.
Eddie's been Edgy before
Seated among the European heartthrobs like Luke Evans, Francesco Scianna and Louis Garrel at Valentino was Stromae, the striking-looking Belgian musician who became a viral sensation with videos in which his gender was so stylized as to be beside the point.
Though now dating a woman, in early interviews Stromae, whose name is Paul Van Haver, maintained a deliberate ambiguity about his sexuality.
That would seem to make him an ideal customer for Valentino, whose collection last season — in which men's suits were cut like pajamas and girly butterflies were embroidered or printed onto everything — was an aesthetic success and also a commercial one.
And you can always flash your Johnson. Right Eric?