Former Arkansas Gov. Mike Huckabee (R) said on Sunday that even though he opposes gay marriage for religious reasons, he has plenty of gay friends — just like he has friends who drink, curse and enjoy ballet.
Obviously Huck's a big fan of Boris Lermontov
"People can be my friends who have lifestyles that are not necessary my lifestyle," Huckabee said on CNN's "State of the Union." "I don't drink alcohol, but gosh, a lot of my friends, maybe most of them do. I don't use profanity, but believe me, I've got a lot of friends who do. Some people really like classical music and ballet, opera — it's not my cup of tea."
Ted Nugent is clearly Huck's Cuppa Tea
I prefer Nick DeCaro.
"This is not just a political issue, it's a biblical issue," he said. "It's like asking somebody who's Jewish to start serving bacon-wrapped shrimp in their deli."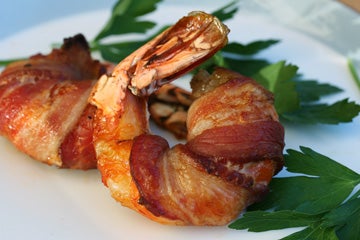 The Huckabees clearly scarf them down by the bucket-full
As for the tub-o-lard at the center of that family portrait –
UPDATE: January 2015 – Testing the waters for another presidential run, Mike Huckabee — whose son tortured and killed a dog — has sought attention by criticizing the Obamas' parenting skills.
The White House has boarded its share of unsavory family members of occupants. During Pres. George H.W. Bush's term, no doubt coke was snorted in the hallowed halls by his sons and their friends. Everyone still remembers what it was like when Billy Bob Carter came to town. And the daughters of today's Pres. Bush could not be considered boring.
But if Mike Huckabee makes it to Pennsylvania Avenue, should we expect Michael Vick to sleep in the Lincoln bedroom?
David Huckabee "admitted to catching a stray dog during their summer session at Camp Pioneer in Hatfield, AR, and hanging the dog by his neck, slitting his throat and stoning him to death"

Words fail.
Huckabee's eldest and tubbiest son, David, would have made Vick proud when he was 18 and fired from his Boy Scout counseling job for torturing and killing a stray dog. David most recently made headlines when he was arrested for forgetting about the Glock pistol in his bag at the Little Rock airport.
But a few years earlier, when his dad was still governor, Big Boy was in a different kind of trouble. Corrente has been all over this story but the site is down now, probably due to excessive hits. This is from the Crooks & Liars quote from Corrente:
Here's the barebones story of how 18-year-old Mike Huckabee's son, David, and 17-year-old Clayton Frady killed a dog when they were Boy Scouts, and got fired for it. From the Arkansas Democrat-Gazette in 1998 (as quoted in DogBlog):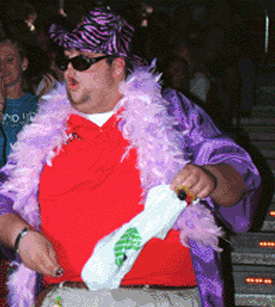 [David Huckabee,] the younger son of Gov. Mike Huckabee and another teen were fired last month from jobs at a Boy Scout camp after the killing of a stray dog.[..]
So, how and why did David Huckabee (and Clayton Frady) kill the dog?
The original story isn't clear in the lead (the admissions and the details come as you read down). Still from the Democrat Gazette:
The dog was killed [passive voice] July 11 at Camp Pioneer near Hatfield.[..]
I believe the following is the faxed description of the "particular process." It's on a reputable site, Utopia Animal Rescue, which is run by, of all people, Kinky Freidman:
(Miller County, Arkansas) Two boy scout counselors, 17 year old Clayton Frady and 18 year old David litickabee [sic], the son of Arkansas Governor Mike Huckabee, have admitted to catching a stray dog during their summer session at Camp Pioneer in Hatfield, AR, and hanging the dog by his neck, slitting his throat and stoning him to death.
Corrente attributes the strange spelling of David's last name to the fact that the original information was received by fax, then likely scanned into a word processing program.
The site also disputes David's attempts to whitewash the killing by explaining that the dog had mange and was emaciated. Apparently the idea of feeding and bathing instead of torturing it were not considered. Possibly this is the reason that in his dismissal camp officials said Boy Scouts are kind, and David Huckabee wasn't.
Newsweek also detailed how, within months, Gov. Huckabee fired the prosecutor who filed animal cruelty charges against his son.
The incident…also prompted the local prosecuting attorney — bombarded with complaints generated by a national animal-rights group — to write a letter to the Arkansas state police seeking help investigating whether David and another teenager had violated state animal-cruelty laws. The state police never granted the request, and no charges were ever filed. But John Bailey, then the director of Arkansas's state police, tells NEWSWEEK that Governor Huckabee's chief of staff and personal lawyer both leaned on him to write a letter officially denying the local prosecutor's request. Bailey, a career officer who had been appointed chief by Huckabee's Democratic predecessor, said he viewed the lawyer's intervention as improper and terminated the conversation.
Seven months later, he was called into Huckabee's office and fired. "I've lost confidence in your ability to do your job," Bailey says Huckabee told him. One reason Huckabee cited was "I couldn't get you to help me with my son when I had that problem," according to Bailey. "Without question, [Huckabee] was making a conscious attempt to keep the state police from investigating his son," says I. C. Smith, the former FBI chief in Little Rock, who worked closely with Bailey and called him a "courageous" and "very solid" professional.
Huckabee called Bailey's account "totally untrue" and described him as a "bitter" ex-employee. "I asked him to resign because he had so alienated the entire state police," he said. "It had nothing to do with my son."
David, who was named Arkansas State University's 2001 Homecoming King, is now married and sometimes lists his occupation as a mortgage broker.
Does Roxy Mieville know about this?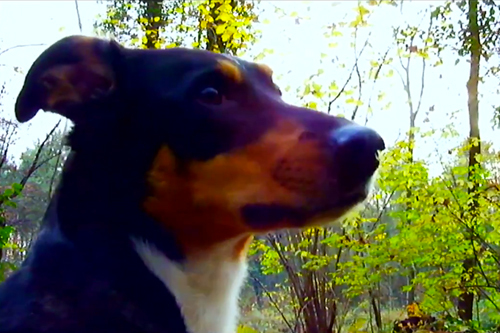 John Cale will sing us out