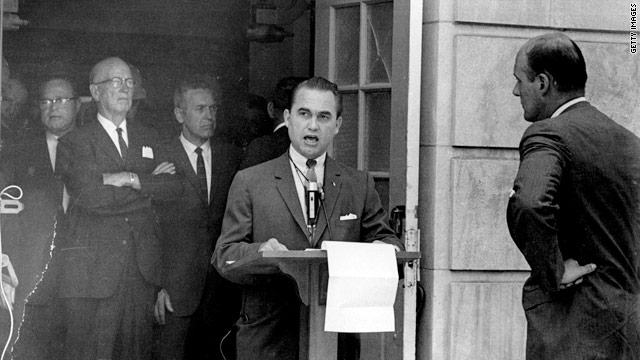 GEORGE WALLACE IS BACK FROM THE DEAD!
Yes I know that's 24 minutes of your life that you won't get back. But don't you think it was worth it to hear from a man who TALKS DIRECTLY TO GOD?
Apparently he dozed off when God explained marriage. Right Betty?
Meanwhile Jon Stewart — even as he makes plans to head out the door — couldn't resist taking a shot at Judge Moore and his Even More Evil Twin Sam Brownback.
Still amidst all this gloom (with accompanying snark) a ray of hope can be found in the least-likely of places.
Thurmond, West Virginia is the smallest town in America to pass an ordinance banning discrimination based on sexual orientation and gender identity.
In a unanimous vote Monday night, the town of five residents adopted employment, housing and public accommodation protections to a new town-wide Human Rights Act.
Since 2009, Fairness WV, a statewide advocacy organization, has been working with communities to pass these types of ordinances. In a statement, Executive Director Andrew Schneider says the Thurmond ordinance is stronger than current protections in the statewide Human Rights Act. Bills to extend protections in employment and housing based on sexual orientation and gender identity have failed in the West Virginia Legislature for years. Charleston, Huntington, Morgantown, Athens, and Harpers Ferry all have adopted similar ordinances banning discrimination against LGBT citizens.
Peter Pears, accompanied by his lover Benjamin Britten, will sing us out.