Festive, ain't it? Well take a good look because
IT'S ABOUT TO BE BLOWN-UP BY SOMALI TERRORISTS!
The Mall of America said it beefed up already-complex security measures Monday in the wake of a weekend terror threat and sought to assure shoppers that everything possible is being done to keep them safe.
Bomb-sniffing, family-friendly dogs patrol the mall along with foot and bike patrols. A team monitors social media. Another team staffs the nerve center in the bowels of the megamall, where footage from hundreds of security cameras is always rolling. Delivery trucks are swabbed for evidence of explosives before unloading merchandise.
The Bloomington megamall — the nation's busiest shopping center with 40 million visitors annually — already had much of this security apparatus in place. But it offered reassurances that it is further upgrading security, inviting local and national news media for an unprecedented look inside its operations.
The efforts to reassure the public came after a threat in a video posted online this weekend by Al-Shabab, the Somali terror group responsible for the 2013 Westgate mall massacre in Nairobi, Kenya. The group urged attacks on shopping centers in the West, singling out the Mall of America, London's Oxford Street and the West Edmonton Mall in Alberta.
JUST LOOK AT THEM!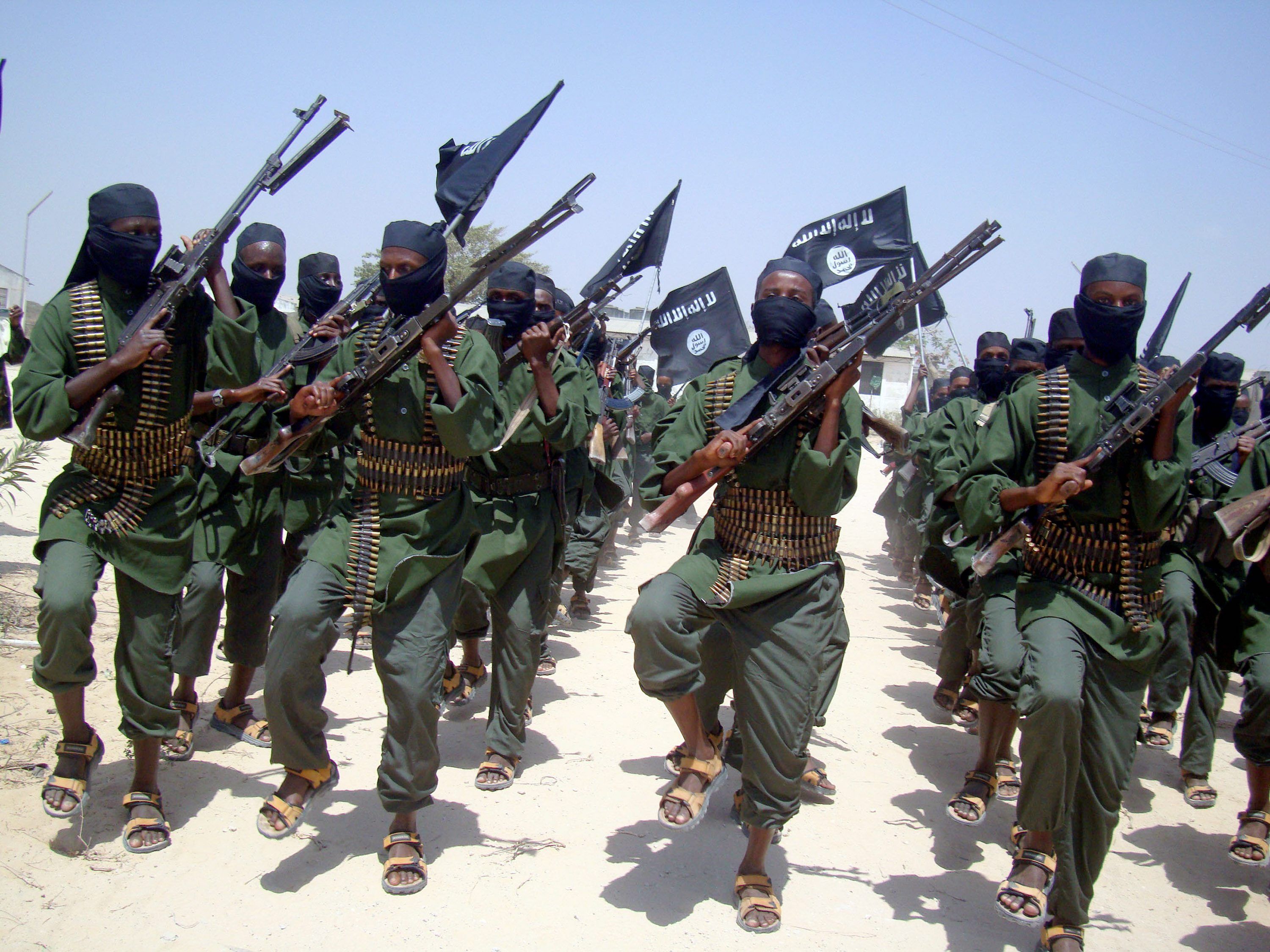 Like Al Queida and ISIS these people may be halfway around the world but they're about to attack Malls in the U.S. and Canada any minute!
Because if we're not living in a state of abject fear then the status cannot remain quo.
The specter of attacks on civilian shoppers is not new, security experts and local officials said Monday. Yet the latest threat had malls nationwide also reinforcing their security measures.
Bloomington Police Chief Jeff Potts said officials are taking the recent threat seriously, but "we've dealt with this sort of thing in the past. For a lot of really good reasons, we've been working with partners in local, state and federal law enforcement for years. We have built our contingency plans."
Malls have been much better prepared to deal with threats since the Sept. 11, 2001, terror attacks, said David Levenberg, president of Florida-based Center Security Services Inc., a security consulting firm for malls and retail outlets.
"Unfortunately, terrorism has morphed. … People take an idea that is put out there and act on their own," he said. In the past, terrorists were more likely to operate "through planning, groups, communication, logistics and training, like a military operation."
But while the attacks may be harder to predict, technology and training that occur behind the scenes are improving, Levenberg said.

IOW we're going to become hysterical over a "threat" that does not exist outside of press releases.
This Dog and Pony Show is not new. Remember when we were all supposed to be shitting in our pants because the Russians were going to drop The Bomb on us all?
That worked beautifully for years. But then Communism collapsed, and "War" meant Vietnam — which after decades of anti-war struggle we forced the government to surrender. To US!
They haven't forgotten and created fascist "Think Tanks" to spread the propaganda that dictates to us now via our famously "Free Press".
During Monday's whirlwind hourlong tour, officials stressed that the mall — with its 100 full- and 50 part-time security officers — is constantly assessing its procedures and coordinating its activities with law enforcement to patrol the 87 acres outside and 4.8 million square feet inside.
"I believe the Mall of America is a very safe place," said Potts, whose department maintains a full-time police substation in the mall. "We encourage people to come on out."
Potts said his police have increased their presence since the recent threat, but he would not specify how many officers are on duty at the mall, either now or during normal times.
The link to Somali terrorists is of special concern in the Twin Cities, which has the nation's largest Somali population. Between 2007 and 2009, at least 22 young Somali-Americans left the Twin Cities after being recruited to join Al-Shabab. Officials say another 15 have left Minnesota in recent months to join Islamic State in Iraq and the Levant (ISIL).
Potts said law enforcement agencies throughout the region make a special effort to "make sure we have good conversations with our Somali community."
Typical Mall-shoppers those Somalis.
In a statement issued Monday, leaders of Minnesota's Somali/Muslim community condemned the terrorist threat and said, in part: "The safety and security of Minnesotans and of all Americans is of utmost importance to Somali-Americans. We condemn all forms of terrorism or threats of terrorism, repudiate any individual or group that would carry out such attacks or make such threats and remain committed to being at the forefront of defeating religious or political extremism. … While remaining vigilant, we must not allow a terror group to achieve its goal of spreading fear or panic. We must also prevent justifiable security concerns from being used as a pretext to promote hatred, prejudice and suspicion of the whole community."
Jesse Tron, spokesman for the International Council of Shopping Centers, said Monday that shopping centers "are working constantly on security."
But as we all know that doesn't really matter.
Cue John Cale.