The man who "doesn't love America" gave a speech today at The Edmund Pettus Bridge
The Edmund Pettus Bridge is a bridge that carries U.S. Route 80 across the Alabama River in Selma, Alabama. Built in 1940, it is named for Edmund Winston Pettus, a former Confederate brigadier general, Democratic Party U.S. Senator from Alabama and Grand Dragon of the Alabama Ku Klux Klan.
The Pettus Bridge was the site of the conflict of Bloody Sunday on March 7, 1965, when armed officers attacked peaceful civil rights demonstrators attempting to march to the state capital of Montgomery.
The marchers were gassed
and beaten.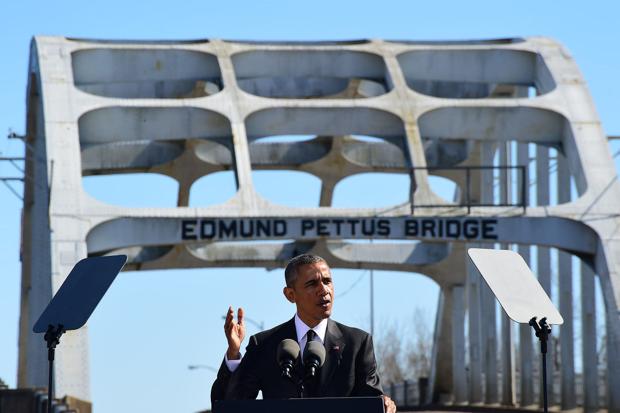 Here's a transcript of the President's Speech
Here's the Speech.
Here are a few choice passages.
Because of what they did, the doors of opportunity swung open not just for African-Americans, but for every American. Women marched through those doors. Latinos marched through those doors. Asian-Americans, gay Americans, and Americans with disabilities came through those doors.

We do a disservice to the cause of justice by intimating that bias and discrimination are immutable, or that racial division is inherent to America. If you think nothing's changed in the past fifty years, ask somebody who lived through the Selma or Chicago or L.A. of the Fifties. Ask the female CEO who once might have been assigned to the secretarial pool if nothing's changed. Ask your gay friend if it's easier to be out and proud in America now than it was thirty years ago. To deny this progress – our progress – would be to rob us of our own agency; our responsibility to do what we can to make America better.

This is work for all Americans, and not just some. Not just whites. Not just blacks. If we want to honor the courage of those who marched that day, then all of us are called to possess their moral imagination. All of us will need to feel, as they did, the fierce urgency of now.

Fellow marchers, so much has changed in fifty years. We've endured war, and fashioned peace. We've seen technological wonders that touch every aspect of our lives, and take for granted convenience our parents might scarcely imagine. But what has not changed is the imperative of citizenship, that willingness of a 26 year-old deacon, or a Unitarian minister, or a young mother of five, to decide they loved this country so much that they'd risk everything to realize its promise.
That's what it means to love America. That's what it means to believe in America. That's what it means when we say America is exceptional.
Fuck You Rudy!
(Cue Wolfie)