EWWW!!!!!!!
By quite a considerable contrast —
AHHHH!!!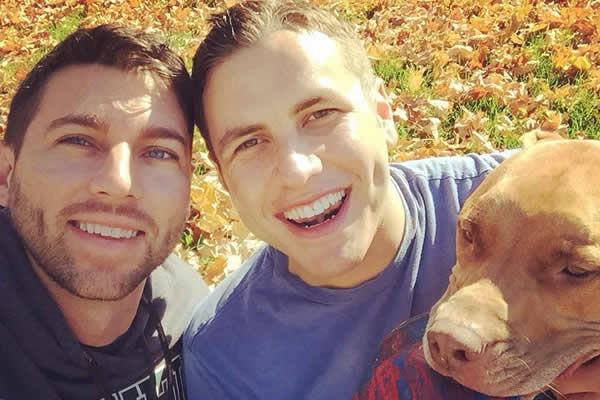 You've doubtless seen the video.
Yes those cuties (seen above with their dog) are the gay couple featured in Hillary's "Roll Out"
Speaking of it to the Washington Blade –
"We were really excited to see that our interview was featured in the campaign announcement," Milrad told the Blade. "It was particularly moving to see Secretary Clinton feature a gay couple engaged to be legally married, the first of any major presidential candidate. To us, this decision demonstrates Secretary Clinton's commitment to LGBT equality and the type of inclusive leader she would be as president."
a fortiori
"We really believe that we need a progressive leader in the White House for years to come," Milrad said. "I was also a strong supporter of President Obama, particularly on the issues that affect our generation as well as the LGBT community, whether it be marriage equality, or climate change, or raising the minimum wage. I think all those issues are something that we agree with Secretary Clinton pretty strongly on. So, we're among many other reasons happy to support the campaign."
I'm happy they're happy. I'm happy Hillary included them in this very carefully crafted video which is devoted almost entirely to the "everyday Americans" whose votes she says at the end she hopes to "earn." As there's no one else on the Democratic side coming forth at the moment — and the Republican Party is right-wing fringe group devoted to seeing the likes of Jared Milrad and Nathan Johnson utterly destroyed the election, as the saying goes "is hers to lose." And I doubt seriously that she's going to. As to the video what it reminds me of most is a signal work by George Landow (aka. Owen Land)
IOW, "This is a Campaign About You — Not About Hillary Clinton"
Nous nous voyons
Cue Stephen Sondheim!