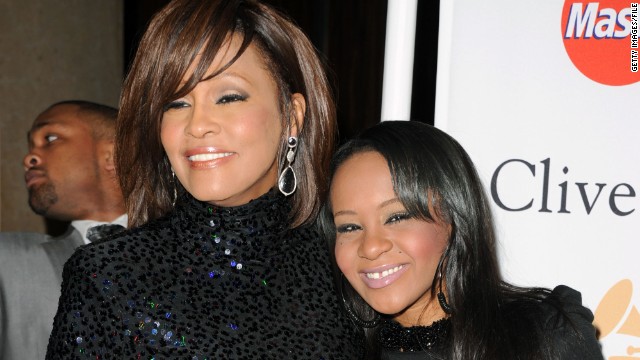 Surely the facts are not in dispute. . . so far.
Bobbi Kristina Brown, the daughter of Bobby Brown and Whitney Houston, has "global and irreversible brain damage," according to her grandmother.
Though the 22-year-old is no longer in a medically induced coma, she remains unresponsive, Cissy Houston said in a statement Monday after visiting her granddaughter.
"Meeting with the doctors and understanding that she can live in this condition for a lifetime truly saddens me," Houston said. "We can only trust in God for a miracle at this time."
Houston's statement matched that from a source with knowledge of Brown's condition, who told CNN on Monday that she remained in the same neurological state she has been in for nearly three months.

"She does not respond to visitors or familiar voices, and her eyes do not follow a person around the room," the source told CNN. "She also has a tracheostomy in her throat," the source said.
IOW — we've seen this movie before.
And leave us not forget the "Reality Series" in which
became
The Terri Schiavo case was a legal struggle involving prolonged life support in the United States that lasted from 1990 to 2005. The issue was whether to carry out the decision of the husband and legal guardian of Theresa Marie "Terri" Schiavo to remove Terri's feeding tube that provided life support. Terri was diagnosed by multiple physicians, including independent court-appointed physicians, as being in a persistent vegetative state, though this diagnosis was challenged by her parents and physicians hired by her parents. The highly publicized and prolonged series of legal challenges presented by her parents and by state and federal legislative intervention caused a seven-year delay before her feeding tube was ultimately removed.
Terri Schiavo collapsed in her St. Petersburg, Florida, home in full cardiac arrest on February 25, 1990. She suffered massive brain damage due to lack of oxygen and, after two and a half months in a coma, her diagnosis was changed to vegetative state. For the next two years doctors attempted speech and physical therapy and other experimental therapy, hoping to return her to a state of awareness. In 1998 Schiavo's husband, Michael, petitioned the Sixth Circuit Court of Florida (Pinellas County), to remove her feeding tube pursuant to Florida Statutes Section 765.401(3). He was opposed by Terri's parents, Robert and Mary Schindler, who argued that she was conscious. The court determined that she would not wish to continue life-prolonging measures, and on April 24, 2001, her feeding tube was removed for the first time, only to be reinserted several days later. On February 25, 2005, a Pinellas County judge ordered the removal of Terri Schiavo's feeding tube. Several appeals and federal government intervention followed, which included U.S. President George W. Bush returning to Washington D.C. to sign legislation designed to keep her alive. After all attempts at appeals through the federal court system upheld the original decision to remove the feeding tube, staff at the Pinellas Park hospice facility where Terri was being cared for disconnected the feeding tube on March 18, 2005. Terri died on March 31, 2005.
In all, the Schiavo case involved 14 appeals and numerous motions, petitions, and hearings in the Florida courts; five suits in federal district court; Florida legislation struck down by the Supreme Court of Florida; federal legislation (the Palm Sunday Compromise); and four denials of certiorari from the Supreme Court of the United States. The case also spurred highly visible activism from the pro-life movement and disability rights groups.
Playing an important role in all of this is a gentlemen currently running for President of the United States
The legislative, executive, and judicial branches, of both the United States federal government and the State of Florida, were involved in the case of Terri Schiavo. In November 1998 Michael Schiavo, husband of Terri Schiavo, first sought permission to remove his wife's feeding tube. Schiavo had suffered brain damage in February 1990, and in February 2000 had been ruled by a Florida circuit court to be in a persistent vegetative state. Her feeding tube was removed first on April 26, 2001, but was reinserted two days later on an appeal by her parents, Bob and Mary Schindler.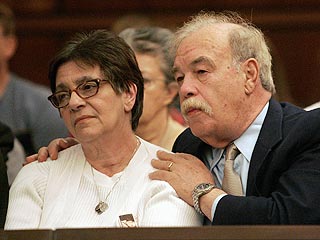 Understandably distraught — and easily manipulated.
On October 10, 2003, the final remaining appeal filed by the Schindlers was dismissed. Five days later, on October 15, Schiavo's feeding tube was removed for the second time. On October 21, the Florida Legislature, in emergency session, passed "Terri's Law". This gave Florida Governor Jeb Bush the authority to intervene in the case. Gov. Bush immediately ordered the feeding tube reinserted.
On May 19, 2004, Florida Judge W. Douglas Baird overturned the law saying that it "summarily deprived Florida citizens of their right to privacy." Bush appealed the ruling to the Florida Supreme Court, and was supported by Schiavo's parents. The Schindlers obtained the legal services of the American Center for Law and Justice (ACLJ), and on June 14, the Schindlers asked the appeals court for the right to participate in the "Terri's Law" case. Michael Schiavo opposed the Governor's intervention, and was represented, in part, by the ACLU. After considering the Governor's reply, the Florida Supreme Court, on September 23, 2004, reached a unanimous decision, ruling that the legislative and executive branches of government unconstitutionally intervened in a judicial matter (against the separation of powers under the United States Constitution) and that Terri's Law was unconstitutionally retroactive legislation. The Schindlers immediately appealed to the U.S. Supreme Court. On January 24, 2005, the Supreme Court refused to hear the case.
Nineteen different Florida state court judges, at various times, considered the Schindlers' requests on appeal in six state appellate courts. While appellate courts do not consider new evidence, they do examine the evidence of the lower court for defects and rule on whether a trial is conducted properly; none of these courts found legal grounds to overturn the initial ruling; and, in seeming agreement, Governor Bush, on October 17, 2003, admitted that "there is no way that he can overturn a judge's decision to remove the feeding tube." The final ruling came on February 25, 2005 when Judge George Greer ordered Schiavo's feeding tube removed on March 18, 2005.
On March 17, 2005, members of the Florida House and Senate debated separate bills relating to artificially provided sustenance and hydration. The House passed its bill, which would have prohibited removal of artificially provided sustenance and hydration from a patient in a persistent vegetative state if that patient did not have an advanced directive indicating that was his or her wish. Florida Senators debated the issue, but did not pass their version of the bill. On March 23, the Florida Senate again debated a similar proposed law, which failed to pass.
As Bobbi Kristina Brown is in custody of her family it's unlikely that Jeb will intervene at this time. But should he become POTUS (Heaven Forfend!) and a decision is made by the family to remove the feeding tubes and "life support" apparatus from the poor clinically dead young woman, all bets are off.
Right Claus?
Well call me old-fashioned by I think medical decisions should be left to the professionals.
Right Lisa
and Cole?