Surely the facts are FABULOUS !
DUBLIN — Ireland appeared poised on Saturday to become the world's first nation to approve same-sex marriage by a popular vote, with early vote counts showing strong and broad support for a measure that would have been unthinkable just a few years ago in what traditionally had been a Roman Catholic stronghold.
Not long after counting began at Dublin Castle, a government complex that was once the epicenter of British rule, the leader of the opposition, David Quinn, the director of the Iona Institute, conceded the outcome in a tweet: "Congratulations to the Yes side. Well done."
Both proponents and opponents said the only remaining question was the size of the victory for approval. Ronan Mullen, an Irish senator and one of only a few politicians to oppose the measure, predicted the win would be "substantial." The official results will be announced this afternoon.

The referendum changes Ireland's Constitution so that marriages between two people would be legal "without distinction as to their sex."
And the results? IT'S A 2 TO 1 VICTORY !
Would that Ireland's greatest writer — the inventor of homosexuality — been here to celebrate. Not that Marriage Equality was in the cards for Oscar. He and Bosie were a bad match.
Stephen Fry and Jude Law (who played them on screen) would be much more copasetic.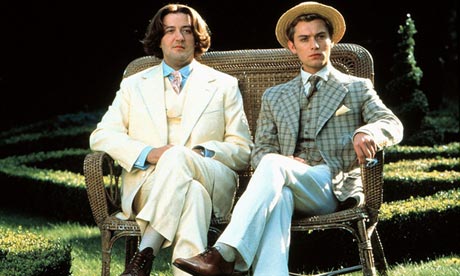 Fry has long been a Wilde adept.
And being British he recently married HIS boyfriend, the lovely Elliot Spencer
And now to close on a note of romantic longing, the climactic scene of The Dead, John Huston's film version of a great short story by Ireland's second-most-famous writer.
The Irish Tenor is Frank Patterson.
But the center of all cinematic and emotional attention is the ineffable Anjelica Huston