Surely the facts are not in dispute
The Duggar story came together quickly over a three-week period, said David Perel [editorial director of InTouch}, a veteran tabloid editor who joined the publication in late 2013 after guiding both the National Enquirer and Radar Online. He won't name the magazine's sources, but a woman named Tandra Barnfield apparently was a helpful guide.
Barnfield was contacted by an InTouch reporter, Melissa Roberto, earlier this year after Barnfield posted a photo on Instagram of her kissing her wife, Samantha Muzny, in front of the Duggars' home near Springdale, Arkansas. The photo — a protest, Barnfield said, of Michelle Duggar's role in promoting opposition to an anti-discrimination initiative last year — had gone viral.
During their conversation, Barnfield, who lives in the Houston area but has family in Springdale, told Roberto about the police report. "It wasn't like it was a rumor to us," Barnfield said in an interview. "We knew all about it. . . . It wasn't hard to get it. You just had to know where to look."
In fact, it was a little more complicated than that. Perel quickly dispatched two reporters to Springdale and hired a local law firm to advise the magazine about Arkansas' open-records law, which enables residents (but not reporters from New Jersey) to obtain public documents.
The law firm filed the records request — and was rewarded with a copy of the original police report several days later. "We got it fast," Perel said.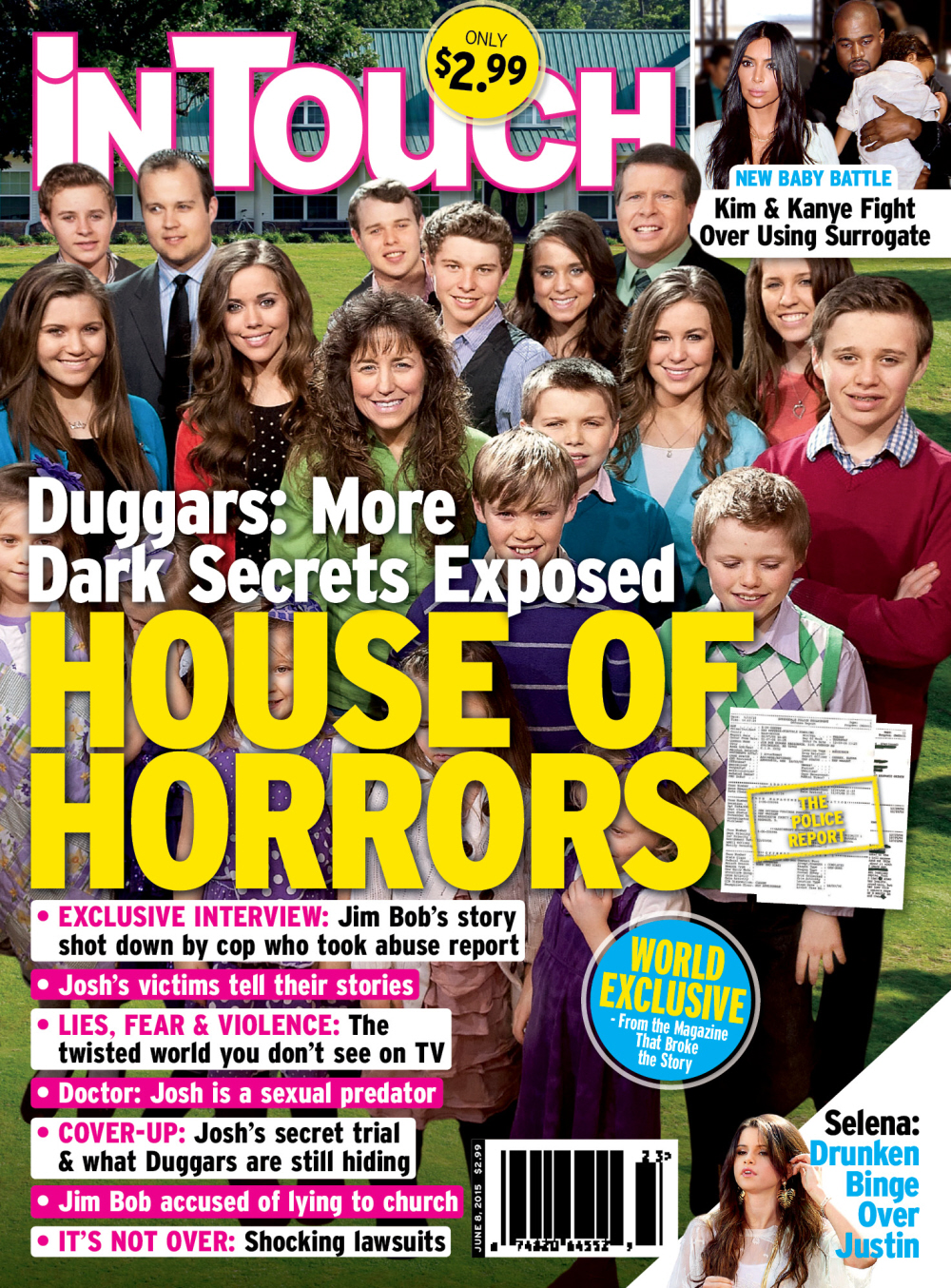 More requests and more documents followed, although Perel said the magazine hasn't got everything it wanted. "Do I have more information on the Duggars in general?" he said. "Yes, I'd say we have some significant things coming out," though he declined to say what.
Perel and Barnfield both deny that InTouch paid any sources for information, a common if ethically fraught practice among tabloid publications. (Perel, however, acknowledges his magazine has paid for other stories.)
InTouch's investigation of the Duggars has drawn the sort of recriminations and controversy that could form the basis of its own tabloid story. The most common line of attack, from Sarah Palin and Fox News, among others: that the stories are part of a left-wing media conspiracy against a family that has been a paragon of conservative values.
As opposed to the Pile of Rotting Fetid Trash they actually were.
There is of course a Story Behind this Story, and JoeMyGod gets the Hat-Tip for bringing it to light.
Early this year the Duggar family invited couples to post kissing photos on their Facebook page, which naturally spurred many submissions by gay couples. After the Duggars deleted all of the gay photos, Texas couple Tandra Barnfield and Samantha Muzny went viral with a photo they took right in front of the Duggar home in Arkansas. The pair returned to the Duggar homestead in March to pose for a second photo, this time triumphantly holding their Oklahoma Marriage license
SING IT SISTER!