While it's clear the Republicans plan to make their Benghazi investigation run longer than
it's obvious from today's pathetic charade that Trey Gowdy
has
The Republicans want a murder indictment for Hillary Clinton
But they're so incompetent they clearly couldn't even manage to fob off a parking ticket on the leading Presidential Candidate — making her future look brighter than ever.
Perhaps they could try turning the whole thing into a musical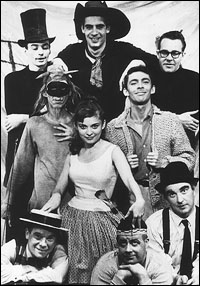 In the Republican version Sidney Blumenthal
would replace Jerry Orbach as "El Gallo" trying to seduce "The Girl" — Rita Garner in the original, The American People today
Kenneth Nelson's "Boy"
is of course Ambassador Chris Stevens
who Breitbart et cie. claim was gay — and therefore unsuited to his job to begin with They are, like their founder the Soul of Decorum.
He's clearly Gowdy's Role Model.
Take it away kids!