CHRIS CHRISTIE'S GONE VIRAL!
And chiming right in The World's Worst Newspaper goes Full Sob Sister
NEWTON, N.H. — When Courtney Griffin was using heroin, she lied, disappeared, and stole from her parents to support her $400-a-day habit. Her family paid her debts, never filed a police report and kept her addiction secret — until she was found dead last year of an overdose.
At Courtney's funeral, they decided to acknowledge the reality that redefined their lives: Their bright, beautiful daughter, just 20, who played the French horn in high school and dreamed of living in Hawaii, had been kicked out of the Marines for drugs. Eventually, she overdosed at her boyfriend's grandmother's house, where she died alone.
"When I was a kid, junkies were the worst," Doug Griffin, 63, Courtney's father, recalled in their comfortable home here in southeastern New Hampshire. "I used to have an office in New York City. I saw them."
Noting that "junkies" is a word he would never use now, he said that these days, "they're working right next to you and you don't even know it. They're in my daughter's bedroom — they are my daughter."
Yes, it's really sad about poor little Courtney. And why should we care?
BECAUSE SHE WAS MIDDLE-CLASS AND WHITTE!
She wasn't some black junkie who, had she been caught would have faced a lengthy prison term — thanks to Hillary Clintons' husband (an outrage President Obama is currently undoing by letting scores of "non-violent drug offenders" out of prison.)
And she wasn't a BoHo Hipster Addict like Lenny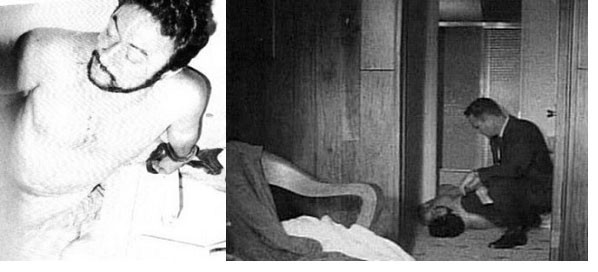 or Tim Hardin
Hey Governor Christie –
Tim was a great singer-songwriter and a phenomenally sweet guy. Here's his Wiki bio which notes of his passing —

On December 29, 1980, Tim Hardin was found on the floor of his Hollywood apartment by his longtime friend Ron Daniels. He died of a heroin overdose. His remains were buried in Twin Oaks Cemetery in Turner, Oregon.
The apartment he was staying in was Pompa's
who had drawn the cover of Tim's last album
Tim's last public performance was shortly before his death when he was the "Special Guest" of fellow-junkie Nico at the Whiskey
The punks assembled to see the Goddess had no idea who Tim was, and cared less. He looked like a teddy bear with half the stuffing pulled out. But he sang like an Angel.
Tim's decline was so well known that in the Paul Simon film One Trick Pony , Simon and his band members talk about "Who's Dead and Who's Still Alive" and decide that Tim was dead. He was still alive. Pompa saw the film and was so gobsmacked by the scene that he took Tim to see the film without telling him about what was in it. Seeing it, Tim laughed so hard and so loud they were nearly thrown out of the theater.
Tim's OD was without question a "Hot Shot" administered by a dealer he owed money too.
One can't be too careful, especially now with smack cheaper than cigarettes.
Even TLC is no guarantee as is clear from this Virtual Documentary scene from Before The Devil Knows You're Dead


Poor Phil.
Poor Lenny.
Poor Tim.
Cue Nico–