Marco's just so stylish, isn't he? And so practical too. As he explains to Jimmy Fallon –
Well now, isn't that special? He wore the boots to a "Foam Party." And deftly blowing all that foam away Marco segues to How I Met My Wife
Clearly those shoes must have impressed her. After all those were the Days of Disco — right K.C. ?
But hold the phone, Marco — Foam Parties ? THIS is what they looked like: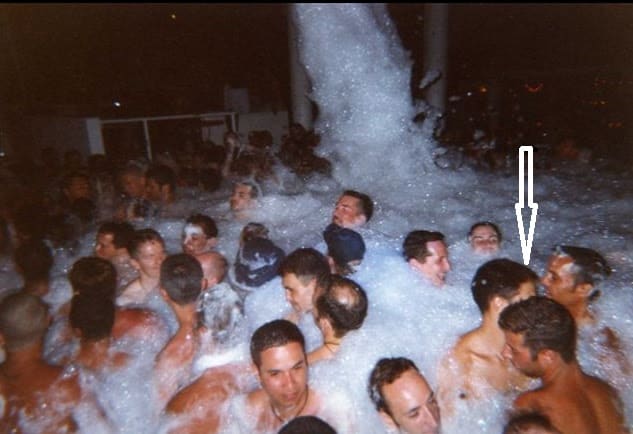 And here's the skinny from a "Reliable Source" of sorts.
After graduating from the University of Florida, Rubio attended the University of Miami Law School. In 1995, Rubio claims he met his wife, Miami Dolphins cheerleader Jeanette Dousdebes at a "foam party" in South Beach. There is one thing wrong with Rubio's story: foam parties in South Beach were almost exclusively gay events held at gay clubs like "Warsaw Ballroom" and "Amnesia," the latter name befitting some of Rubio's memories of his time in Miami. The following is a description of foam parties in a Miami New Times article by reporter Steven Almond, titled "Foam Sex," published in the June 8, 1995 issue:

"The scene generally features several hundred scantily clad bodies packed onto a dance floor and writhing to bone-rattling music under strobes and colored lights. Nothing new, right? Until suds come gushing out of a machine suspended over the dance floor. As if on cue, various forms of passionate embrace begin. Kissing. Petting. Rubbing. Because the foam froths up waist high, it acts both as a lubricant and camouflage. Mutual masturbation is an occasional component, generally beneath the cover of foam. As the evening wears on, a few men pair off and sit together in the foam that builds up outside the partitioned-off area."
Hubba-Hubba! But wait — there's more!
At "Amnesia," emcee "Kitty Meow, a drag queen, would officiate over the foam parties, directing participants what to do. Some foam party participants only wore jock straps. It is entirely possible that Rubio did meet his future wife at a foam party, but the women who attended these functions were largely what are known as "fag hags" out to have a good time while at the same time avoid being hit on by the gay men.

Rubio, who has four children and claims to be a devout Christian, alternately attending Catholic and Baptist churches in south Florida, appears to have a not-so-secret past. There is a Spanish word that aptly describes the presidential hopeful: Cristiano afeminado or Christian homosexual.
Here's Marco and his family
which as you can see has a budding "Cristiano afeminado" on the far left
In 1989, a year before Rubio was arrested with his friend Angel Barrios and another unidentified male friend in Alice Wainwright Park in south Miami, ostensibly for drinking beer in a car after closing time in a park known as a pickup locale for gays.
I'm sure it's all just a misunderstanding. Right Jerry?
And hey Marco's not a Total Phobe
Still for all his social savoir faire Marco has pledged not only to overturn Obergefell but render all same-sex marriages that have taken place null and void.
So get out those Boogie Shoes, Marco — cause you've got a ton a Foam to wade through.
Hit it boys!