Having skewered the late and unlamented Nancy Reagan and others of her ilk a number of years back in his play "Just Say No" I doubt Larry would be terribly surprised by Hillary's mendacity.
Your mileage may vary.
Here's how the "Conversation" actually began.
Q: Larry, does the President have any reaction to the announcement—the Centers for Disease Control in Atlanta, that A-I-D-S is now an epidemic and have over 600 cases?
SPEAKES: What's A-I-D-S?
Q: Over a third of them have died. It's known as "gay plague." (Laughter.) No, it is. I mean it's a pretty serious thing that one in every three people that get this have died. And I wondered if the President is aware of it?
SPEAKES: I don't have it. Do you? (Laughter.)
Q: No, I don't.
SPEAKES: You didn't answer my question.
Q: Well, I just wondered, does the President—
SPEAKES: How do you know? (Laughter.)
Q: In other words, the White House looks on this as a great joke?
SPEAKES: No, I don't know anything about it, Lester.
Q: Does the President, does anybody in the White House know about this epidemic, Larry?
SPEAKES: I don't think so. I don't think there's been any—
Q: Nobody knows?
SPEAKES: There has been no personal experience here, Lester.
Q: No, I mean, I thought you were keeping—
SPEAKES: I checked thoroughly with Dr. Ruge this morning and he's had no—(laughter)—no patients suffering from A-I-D-S or whatever it is.
Q: The President doesn't have gay plague, is that what you're saying or what?
SPEAKES: No, I didn't say that.
Didn't say that?
SPEAKES: I thought I heard you on the State Department over there. Why didn't you stay there? (Laughter.)
Because I love you, Larry, that's why. (Laughter.)
SPEAKES: Oh, I see. Just don't put it in those terms, Lester. (Laughter.)
Q: Oh, I retract that.
SPEAKES: I hope so.

Larry Melvin Speakes (September 13, 1939 – January 10, 2014) was an acting press spokesman for the White House under President Ronald Reagan, having held the position from 1981 to 1987.
Speakes was married to the former Laura Christine Crawford (born 1945), whom he met in high school. Long ago divorced, she resides in Oxford, Mississippi. They had three children.
Speakes was also married to the former Betty J. Robinson and in 2001 Aleta Sindelar, a registered nurse from Bethesda, Maryland, who claims that Speakes gave her control of his $1 million estate, an issue that has pitted her in legal dispute with Speakes' children. Ultimately, the Mississippi courts sided with Speakes' daughter and oldest child, Sondra "Sandy" Lanell Speakes Huerta of Cleveland, Mississippi. Sindelar's visitation with her husband was restricted. The Speakes' children said that Sindelar had deserted Larry and left him to care for himself in a condominium in Arlington, Virginia.
Speakes died in Cleveland, Mississippi, on January 10, 2014, at the age of 74, of Alzheimer's disease. His body was interred a few hours after his death at North Cleveland Cemetery.
As Tolstoy said "Happy families are all alike."
As to the matter of Nancy's other "conversation". . .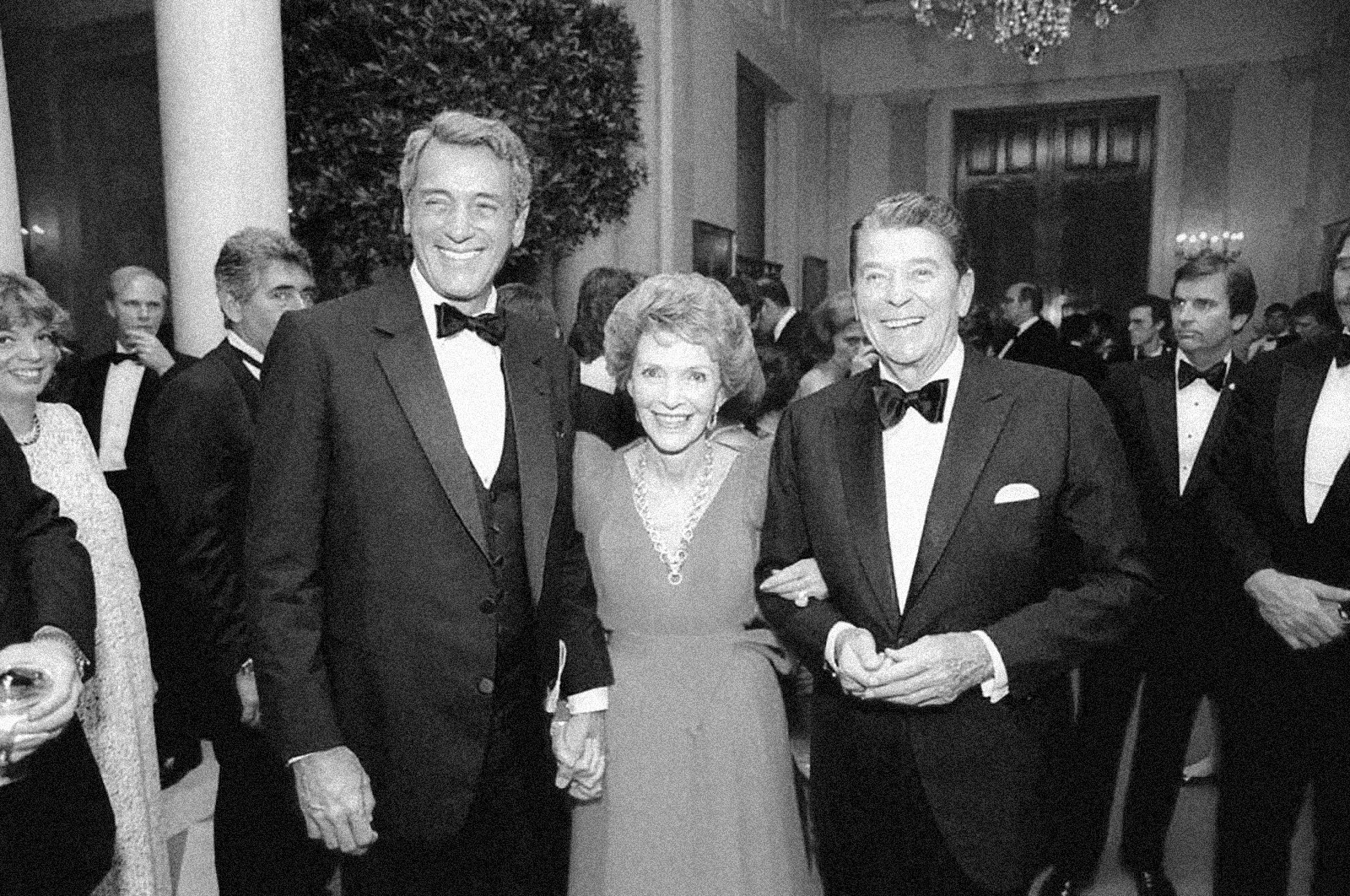 One key part of this story, though, has never been told until now — not discussed at the time and lost in piles of paperwork from the Reagan administration. As Hudson lay deathly ill in the hospital, his publicist, Olson, sent a desperate telegram to the Reagan White House pleading for help with the transfer.
"Only one hospital in the world can offer necessary medical treatment to save life of Rock Hudson or at least alleviate his illness," Olson wrote. Although the commanding officer had denied Hudson admission to the French military hospital initially, Olson wrote that they believed "a request from the White House … would change his mind."
First Lady Nancy Reagan turned down the request.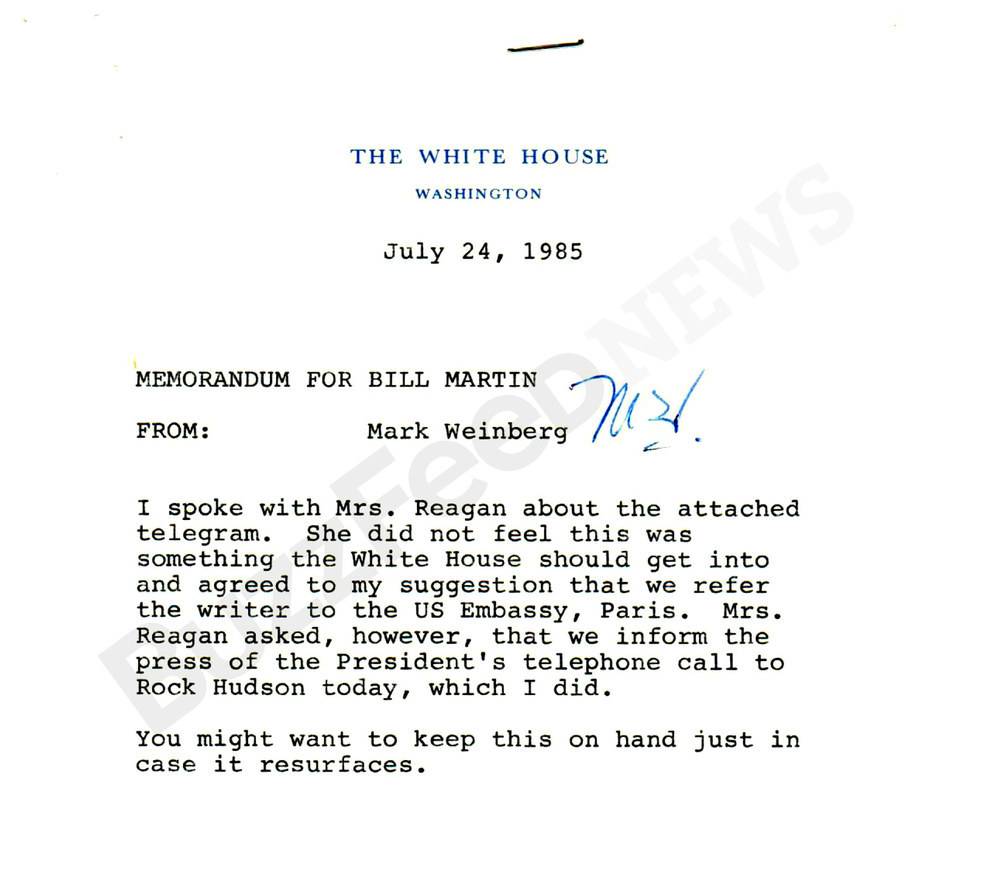 Cue S&G
Hillary Clinton apologized on Friday for calling the late Nancy Reagan a "very effective, low-key" advocate on AIDS/HIV, saying she "misspoke" in an interview with MSNBC.
Clinton said the former first lady, who died on Sunday, "started a national conversation" on AIDS that "penetrated the public conscience and people began to say, 'Hey, we have to do something about this, too,'" during an interview with the network at Reagan's funeral.
But Nancy Reagan's husband, President Ronald Reagan, didn't deliver a major speech on the epidemic until 1987, six years after the Centers for Disease Control and Prevention first reported on the disease. Many in the gay community have criticized Reagan for not doing more to respond to the AIDS outbreak during his presidency.
Chad Griffin, the president of the Human Rights Campaign and a former Clinton White House aide, knocked the Clinton on Friday for incorrectly holding Reagan up as an activist.
He tweeted, "Nancy Reagan was, sadly, no hero in the fight against HIV/AIDS."
Clinton soon after tweeted an apology.
"While the Reagans were strong advocates for stem cell research and finding a cure for Alzheimer's disease, I misspoke about their record on HIV and AIDS," Clinton said in a statement. "For that, I'm sorry."
Griffin's shot at Clinton is noteworthy given the gay rights activist's ties to the Democratic family. He campaigned with Clinton in Iowa in January.
In the MSNBC interview Clinton, unprompted, heralded Reagan's activism.
"The other point to make, too, is it may be hard for your viewers to remember how difficult it was for people to talk about HIV/AIDS back in the 1980s," Clinton said. "And because of both President and Mrs. Reagan, in particular Mrs. Reagan, we started a national conversation, when before nobody would talk about it."
Clinton added: "Nobody wanted to do anything about it. And, you know, that too is something that I really appreciate with her very effective low-key advocacy, but it penetrated the public conscience and people began to say, hey, we have to do something about this, too."
A DAY LATE AND SEVERAL BILLION DOLLARS SHORT, BITCH!!!!!!