Well isn't that special. Clearly Brit's concern over "Male Parts Exposed" has driven him to get a gander at Caitlyn's "junk " such as it is. Peering over a bathroom stall as Republicans are wont to do no doubt..
But as he claims to know a lot more about transgenders perchance he's been taking a "night school" course at Johns Hopkins.
Yeah, right.
Brit as I trust we all know "has issues" the LGBT thanks to
Alexander Britton "Sandy" Hume, Jr. (September 2, 1969 – February 22, 1998) was an American journalist. Hume worked for The Hill newspaper in Washington, D.C. He was the son of Brit Hume, then Fox News Channel's managing editor, and Clare Jacobs Stoner.

Hume broke the story of the aborted 1997 coup by Rep. Bill Paxon against Speaker Newt Gingrich. Another of the plotters, Majority Leader Dick Armey, scuttled the coup when he learned that Paxon, and not he, would replace Gingrich. Armey later disavowed the whole attempt and claimed not to have been involved.
For every action there is a reaction.
Hume committed suicide in his apartment in Arlington, Virginia. In the months before his death, Hume, an alcoholic, had begun drinking again. The night before his suicide, Hume was jailed for drunk driving and tried to hang himself in the U.S. Park Police jail cell. He was evaluated at a psychiatric facility and released. He went home and took his life with a hunting rifle. He left a long note expressing shame at the previous night's events.
The Story of Sandy Humes death is being suppressed for personal decorum. Hume was the lover of Bill Paxon and committed suicide when Paxon wished to end the relationship at the demand of his wife, Susan Molinari.
Out of nowhere, the Miami Herald has dusted off and expanded upon one of Washington's oldest and juiciest political rumors: The one about a rising young beltway journalist and his gay affair with a powerful GOP congressman, and how the journalist shot himself in the head when his lover's political rival threatened to out them. According to the Herald, that rival may have been Newt Gingrich.
The rumor, in brief, is as follows: In the summer of 1997, the Hill's Sandy Hume—the then-28-year-old son of Fox News' Brit Hume—broke a blockbuster story about four GOP congressman who plotted, and failed, to overthrow Newt Gingrich as Speaker. One of those men was Bill Paxon, a New York Republican who was married to fellow Congresswoman Susan Molinari.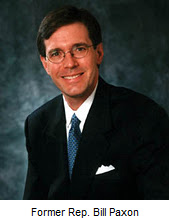 Another of the plotters, Majority Leader Dick Armey, scuttled the coup when he learned that Paxon, and not he, would replace Gingrich. Armey later disavowed the whole attempt and claimed not to have been involved.
A few months later, in February 1998, Paxon launched an attempt to unseat Armey from his leadership position. Just days later, Sandy Hume killed himself with a gunshot to the head. Just days after that, Paxon suddenly and inexplicably resigned and never returned to public life. Almost immediately, rumors began flying that Hume and Paxon had been having an affair, and that Armey had threatened to out them. Hence the suicide and the sudden resignation. The theory was common knowledge among the D.C. press corps, but it never made it to print (as far as I can tell) beyond the dark corners of the internet and an angry passage, years later, in Joe Scarborough's Rome Wasn't Burnt in a Day accusing Armey of smearing Hume. (Scarborough's take was later picked up in this Huffington Post piece.)
But today, pegged to a conference call with Molinari organized by the Romney campaign and designed to bash Newt Gingrich, the Miami Herald's Marc Caputo has rehashed the "imbroglia" in a blog post, shining more light on the rumor (though without any reporting) than it has seen in more than a decade. But Caputo adds a new wrinkle to the tale: "Some" blame Gingrich, and not just Armey, he says, for the threat to go public with information about Hume and Paxon's alleged relationship.
About the same time, rumors surfaced that Hume and Paxon had been involved in a a gay affair. Some (namely MSNBC's Joe Scarborough) blamed Armey for leaking the information to stop Paxon. Some blamed Gingrich, since he benefitted most. Some blamed them both for the rumor.Because South Florida is New York's sixth borough, word of the Paxon-Gingrich-Hume imbroglia has been the subject of whispers by some political operatives tied to the Empire State (Paxon was a Buffalo rep.). It's almost impossible to know just what specifically happened all those years ago, but there's clearly deep scar tissue here that gainsays a simple political narrative that will unfold on a 30 minute conference call.
If true, of course, Gingrich's role in Sandy Hume's suicide is likely the cause of some behind-the-scenes agita at Fox News, where Sandy's father is an emeritus anchor and still a frequent on-screen analyst. The GOP field seems increasingly to be narrowing down to Mitt Romney versus the guy who may have caused one of Fox's most beloved on-air personalities to suffer a personal tragedy beyond measure.
There's even more agita at Breitbatbatshit-crazy
While there surely are people wrestling with repressed sexual demons, Sandy Hume was not one of them and the record shows as much. Columnist Daniel Cassidy, who formerly worked in the administrations of both Bush presidencies, debunked the rumored affair in his December, 2011 article featuring former New York Congressman Guy Molinari, who explained Paxon's sudden departure from Congress in 1998 saying, "Bill was so disgusted about what was being done to him by his supposed colleagues that he just quit." Molinari, whose daughter Susan married Paxon, further explained, "I can guarantee you as his father-in-law, there was nothing to those rumors and Bill is definitely not gay."
Another false narrative seeking to link Sandy to Paxon as the source for a 1997 article by Hume, which detailed an effort to oust then-House Speaker Newt Gingrich, was laid to rest in a 2004 book by former Congressman Joe Scarborough who wrote: "I told Sandy everything about the coup from the beginning to end to show everybody that really happened. Bill Paxon didn't give Sandy the story. I did."
How is it that such an ugly story that is light years from truth was never debunked?
One reason is because the Hume family is, in at least one respect, a throwback to a different time when one can be a public figure and private person at the same time. There were no tearful interviews with Geraldo. There was no Washington Post Magazine cover story where the bereaved family appeared with Sandy's baby pictures under the conceit that they were "going public to help others."
The Humes, however, were quite candid with their circle of friends about the terrible circumstances of his death. Several years before his death, an incident of public drunkenness had made its way into an AP story, a source of intense humiliation to Sandy Hume. He had stopped drinking in the wake of it, but had started again shortly before his suicide.
According to news reports, Sandy had been drinking heavily the night before he died. A March, 1998 account of the episode by Jake Tapper for Washington City Paper reported that Hume was speeding in his car and refused to pull over after being chased by the police – and kept speeding until his car stalled. He refused to take a Breathalyzer test, was arrested, and thrown into a jail cell where he tried to hang himself with a shoelace.
Sandy was taken to a psychiatric ward whereupon he talked his way into a speedy release. Soon after being released, he wrote a suicide note and shot himself. At the time, the series of events were outlined in a number of news stories, including one by his editor at The Hill newspaper, David Grann, available on The New Republic's archives. But as the years passed, the absurd Internet rumors managed to overshadow the sad but more prosaic truth.
Regrettably, online rumors never die, but it is possible for the occasional flicker of rationality and discretion. Just as it is possible that a delusional former Marine with Marxist sympathies can be a crack shot with a cheap rifle in 1963 Dallas, it is possible that a promising young reporter can be in the throes of twin illnesses in 1998. We would do well in 2012 to remind ourselves that the vacuum of mystery and sorrow need not be filled by hackneyed tales that teach us nothing.
Well say they teach us something.
After leaving Congress, Paxon became an advisor to GOP congressional members.[4][5]
Following his 21-year public service career, Paxon joined the law firm of Akin Gump Strauss Hauer & Feld LLP, where, since January 1999, he has advised a wide range of public and private sector clients on policy issues. He has consistently been rated one of Washington's top lobbyists.
Paxon was hired by Boeing to lobby members of Congress
While in Congress, the conservative Paxon worked closely with moderate then Rep. Susan Molinari R-Staten Island, who is now a lobbyist. They married on July 3, 1994 and live in Arlington, Virginia. They have two daughters, Susan Ruby and Katherine Marie.
Hume committed suicide on February 22, 1998. After his suicide, Armey, according to Scarborough, spread rumors about a gay affair between Hume and Paxon. Paxon resigned his seat three days after Hume's suicide.

Asked about the rumors about his son-in-law and Hume, Molinari said, "Many of us thought Gingrich was the author of the charges (of the gay affair). That was typical of the kind of thing Gingrich would pull."

"Bill was so disgusted about what was being done to him by his supposed colleagues that he just quit," said Molinari. "I can guarantee you as his father-in-law, there was nothing to those rumors and Bill is definitely not gay."

It is interesting that Gingrich, Armey or both chose to use a gay charge against both Hume and Paxon. Gingrich has called being gay "an abomination" and supports the Defense of Marriage Act that prohibits gay marriage, yet one of his top political lieutenants, Joe Gaylord is known as being gay among top Republicans.

Several longtime members of the South Carolina Republican Party, speaking on terms of anonymity, acknowledged to this reporter they know Gaylord is gay.

This acknowledgement is strengthened by a story related to this reporter by a top Northeastern Republican campaign operative who acted as a driver for Gingrich when he attended a 1986 fund-raiser for Republican Congressional candidate Albio Sires, the same Albio Sires who now represents the West New York, N.J. congressional district as a Democrat.

This operative said he picked up Gingrich from a mid-town Manhattan hotel and drove him to a gay bar (possibly Boots and Saddles} on Christopher Street near the West Side Highway in the West Village. Christopher Street in the West Village is well known as a headquarters for gays in New York City.

"I have no idea why Gingrich was going to a gay bar," said the operative. "I was a huge fan of Newt when he agreed to come to the fundraiser, but, seeing him up close and driving him around was a huge letdown. He is a total and complete phony."

Molinari said he has also heard rumors about Gaylord being gay, but has no first-hand knowledge whether the rumors are true or not. However, he does support the notion that Gingrich is not what he purports to be.

"Because we are at a critical time in our country and we need a real leader very badly, I feel morally I'm obliged to come forward and tell what he (Gingrich) has done," Molinari said. "So many stories are coming out — stories where Gingrich violated his promises. He's a great masquerader. He'll lie and he doesn't care."

Voters in South Carolina will be asked to vote for their preferred candidate for President. Will Gingrich hold his lead or will his past catch up with him?

What Gingrich hopes the voters will do is best contained in a quote that his second wife, Marianne Ginther Gingrich, attributes to Newt after she discovered his affair with current wife Callista Bisek Gingrich.

"It doesn't matter what I do," Gingrich told Marianne. "People need to hear what I have to say. There's no one else who can say what I can say. It doesn't matter what I live."

You and what Dick Armey, dear?

We know about your many marriages and public "indiscretions" (like the time you were caught fucking your eventual wife in a Washington D.C. parking structure) But you're Gay on top of this?

YIKES!

Take it away Tom