Surely the facts are in CEASELESS DISPUTE
After spending the better part of two years and more than $7 million, the panel headed by Trey Gowdy (R-S.C.) is under pressure to show that its investment of time and taxpayer money was not wasted.
Gowdy — a humanoid toenail fungus
set up the hearings with the express purpose of "driving her numbers down" — a project our famously "Free Press" has been only too glad to help him with.
what actually happened (and didn't) is of no concern in all this.
The 2012 Benghazi attack took place on the evening of September 11, 2012, when Islamic militants attacked the American diplomatic compound in Benghazi, Libya, killing U.S. Ambassador J. Christopher Stevens and U.S. Foreign Service Information Management Officer Sean Smith.[Stevens was the first U.S. Ambassador killed in the line of duty since 1979. The attack has also been referred to as the Battle of Benghazi.

Several hours later, a second assault targeted a different compound about one mile away, killing CIA contractors Tyrone S. Woods and Glen Doherty Ten others were also injured in the attacks.

Many Libyans condemned the attacks and praised the late ambassador. They staged public demonstrations condemning the militias (formed during the 2011 civil war to oppose leader Colonel Muammar Gaddafi that were suspected of the attacks.

The United States immediately increased security worldwide at diplomatic and military facilities and began investigating the Benghazi attack In the aftermath of the attack, State Department officials were criticized for denying requests for additional security at the consulate prior to the attack. In her role as Secretary of State, Hillary Clinton subsequently took responsibility for the security lapses.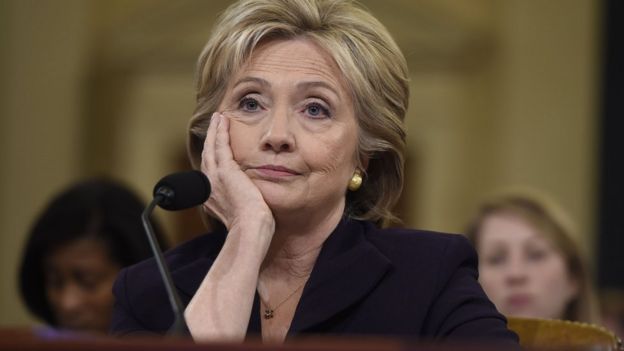 Back in October 2015 her 11 hours of testimony was a marathon the likes f which Washington has never seen before
The report details Clinton's actions on the afternoon and night of the attacks, and Republicans plan to argue that she, along with other top Obama administration officials, failed to mount a robust and coordinated response while terrorists stormed the Benghazi mission and a nearby CIA annex. Though these are allegations that Clinton has fended off several times before, their resurgence with some new information will uncomfortably bring her worst night as secretary of state back to the fore of the presidential campaign.
And will serve as fodder for the "Trust Issue" the Press Prostitutes blather on and on and on about.
Cue El Gallo