Surely the anti-Semitism is beyond dispute
though the NYT does its best to ignore it.
Anyone holding out hope that Donald Trump would govern as a uniter — that the racism, sexism, anti-Semitism and nativism of his campaign were just poses to pick up votes — should think again.
In an ominous sign of what the Trump presidency will actually look like, the president-elect on Sunday appointed Stephen Bannon as his chief White House strategist and senior counselor, an enormously influential post.
Many if not most Americans had never heard of Mr. Bannon before this weekend, and for good reason: He has kept a low profile, even after taking over Mr. Trump's campaign in August. Before that, he worked as the executive chairman of the Breitbart News Network, parent company of the far-right website Breitbart News, which under Mr. Bannon became what the Southern Poverty Law Center has called a "white ethno-nationalist propaganda mill."
Mr. Bannon himself seems fine with that description, telling Mother Jones last summer that Breitbart was now "the platform for the alt-right," a loosely organized group of mostly young men who believe in white supremacy; oppose immigration, feminism and multiculturalism; and delight in harassing Jews, Muslims and other vulnerable groups by spewing shocking insults on social media.
Mr. Bannon is in some ways a perplexing figure: a far-right ideologue who made his millions investing in "Seinfeld"; a former Goldman Sachs banker who has reportedly called himself a "Leninist" with a goal "to destroy the state" and "bring everything crashing down." He has also called progressive women "a bunch of dykes" and, in a 2014 email to one of his editors, wrote of the Republican leadership, "Let the grassroots turn on the hate because that's the ONLY thing that will make them do their duty."
A few conservatives have spoken out against Mr. Bannon. Ben Shapiro, a former Breitbart News editor who resigned in protest last spring, said Mr. Bannon was a "vindictive, nasty figure." Glenn Beck called him a "nightmare" and a "terrifying man."
But most Republican officeholders have so far remained silent. Some have dismissed fears about Mr. Bannon. Other Republicans have praised him, like Reince Priebus, the chairman of the Republican National Committee, whom Mr. Trump announced as his chief of staff on Sunday, and who said Mr. Bannon could not be such a bad guy because he served in the Navy and went to Harvard Business School. Some saw the pick of Mr. Priebus as evidence that Mr. Trump would not be leaning so much on Mr. Bannon. But don't be fooled by Mr. Priebus's elevated title; in the press release announcing both hires, Mr. Bannon's name appeared above Mr. Priebus's. In a little more than two months Mr. Bannon, and his toxic ideology, will be sitting down the hall from the Oval Office.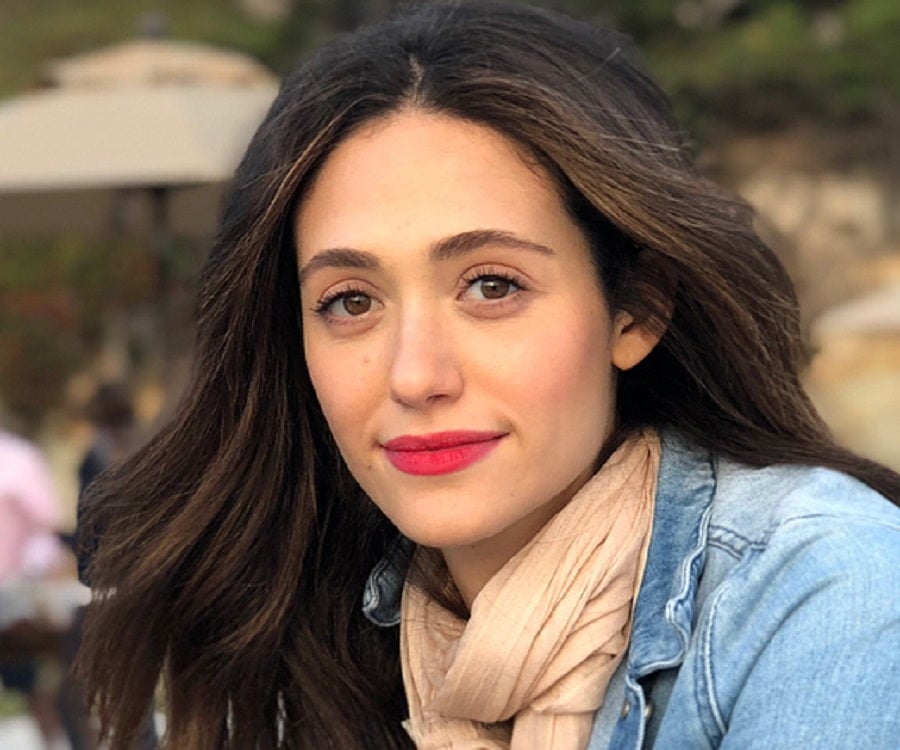 Meanwhile actress Emmy Rossum finds herself under attack from Breitbart's minions
Jewish American actress Emmy Rossum is one of the latest victims in the wave of Trump fueled hate crimes and harassment of minority communities to hit the United States after the controversial businessman's shocking election to the presidency last week, an election viewed by many as enabling of the most pervertedly racist elements of American society.
The actress, who is a part of the popular Netflix series "Shameless," received a series of disturbing, pro-Trump messages via her Twitter account throughout this past weekend which explicitly hearkened back to the persecution of fellow members of Rossum's faith in Nazi Germany, a political administration idolized by many white supremacists for its commitment to the imaginary concept of "racial purity."
Rossum wrote early Sunday on her Twitter page that "Trump supporters are sending me messages threatening to send me [and] my 'ilk' to the gas chambers [and] writing hashtags like '#sieg hiel.' NOT OK."
Rossum also wrote, shortly after her first tweet, that "[t]elling anyone to 'get ready for the trains' in reference to WWII is disgusting and offensive. Reporting you to Twitter is not enough. Back off."

Rossum reposted later on Sunday an example of the virulent internet hate she has been being subjected to, showcasing a tweet tagging the actress featuring an image of the Auschwitz death camp altered to feature "Trump" in huge gold letters on each side of the camp's gates.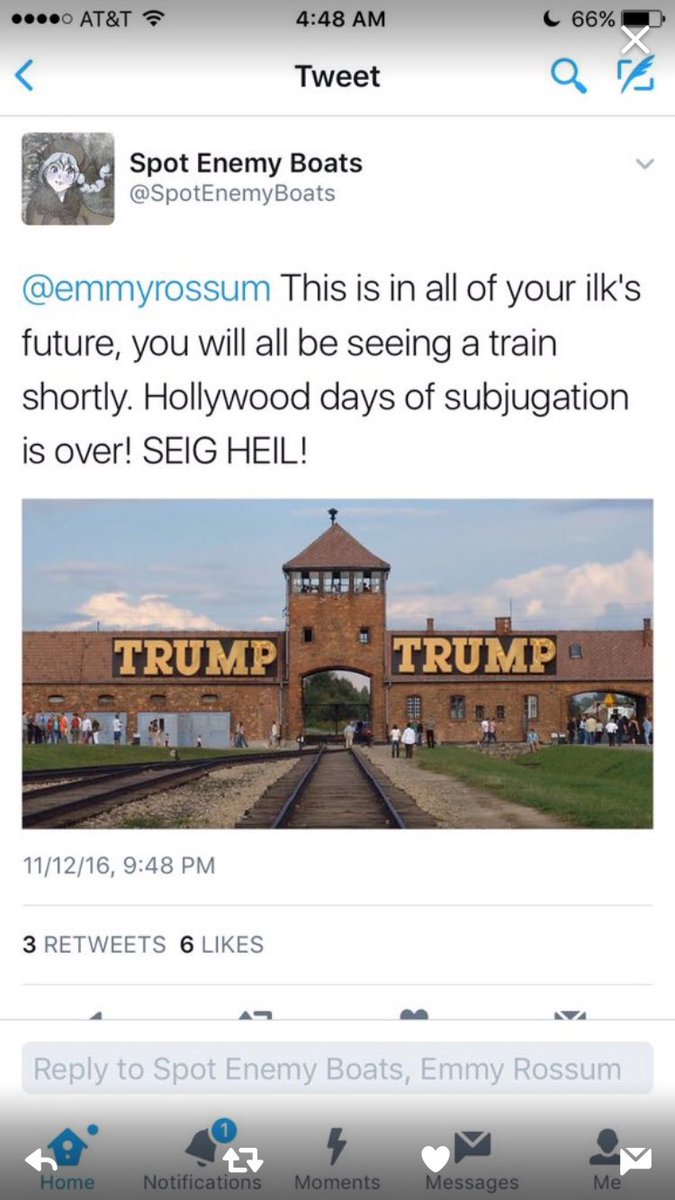 Neither Trump inspired hate crimes nor the pro-Nazi element in these hate crimes is unique to Rossum's situation.
Multiple locales across the United States have fallen victim to pro-Nazi graffiti in the days since Donald Trump won the presidency, featuring, for example, swastikas and messages proclaiming a supposed return to white racial purity on the part of American citizens
Now HERE'S something sure to please the Bannonistas — the Third Reich's ost infamous film, directed by Stanley Kubrick's uncle-in-law
Take it away Mel!