Here's Rachel with a spectacular bit of Truth-Telling that will doubtless get her into trouble.
Dumpf's lies remind me of a famous feud between two women actually capable of speaking in complete sentences — Mary McCarthy and Lillian Hellman. Nora Ephron even wrote a play about it.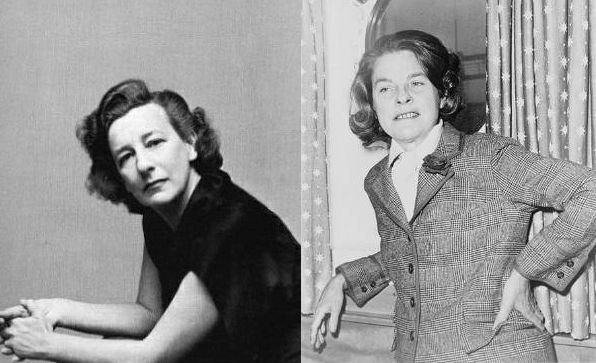 My notes for the program that night read, "Miss McCarthy asked if you'd let her say a few words about a young writer she feels is underrated." During the interview, in an attempt to be clever, I asked McCarthy to name some overrated writers, thinking that she would take that as her cue. Instead, she answered the question, mentioning John Steinbeck, Pearl Buck, and, finally, Lillian Hellman, "who I think is tremendously overrated, a bad writer, and a dishonest writer, but she really belongs to the past."

"What's dishonest about her?" I asked.

"Everything," McCarthy replied, smiling. "I said once in some interview that every word she writes is a lie, including 'and' and 'the.' " There was an "ooh" and a laugh from the audience, but otherwise the moment passed innocuously. After the taping, the network's lawyer—paid to anticipate litigation—did not utter even his occasional "Dick, we may have a problem." Instead, he said, "Nice show."

During breakfast the next morning, my assistant called. "Have you seen the papers?" she said. "Hellman is suing Mary McCarthy, PBS, and you for two and a quarter million."

"And me?" I replied, in a prepubescent squeak. The other phone rang, and the familiar whiskey-and-cigarettes baritone rasped, "Why the hell didn't you defend me?"

"I guess I never thought of you as defenseless, Lillian," I managed.

"That's bullshit. I'm suing the whole damn bunch of you." In that, at least, she proved a woman of her word.

I had been to dinner at Lillian's, and she, too, had been on my show. She was a sharp and entertaining guest—an eager appearer, arriving early, looking as if she'd just stepped out of Elizabeth Arden. No one was neutral about Lillian. She had a famous friendship with Dorothy Parker, yet to Jean Stafford she was "Old Scaly Bird."

A professional critic talking about a public figure is rarely the stuff of lawsuits. Incredibly, Hellman denied being a public figure, forgetting, perhaps, that she had recently appeared in a national advertising campaign for Blackglama furs, which used only women who were so identifiable that their names were omitted; the copy read "What becomes a legend most?"
Recalling that McCarthy had said she was quoting herself from an earlier print interview, I asked my lawyer why that didn't get her off the hook. "Simple reason," he said. "Who reads?"

I gave my lawyer a bad moment during deposition. I was asked by the other side, "Mr. Cavett, do you have any reason to think that anything Miss Hellman wrote is . . . inaccurate?"

"Yes." (Minor gasps)

"What?"

"Well, here's one my wife and her Southern friends enjoy. In one of her stage directions, she has her characters relaxing out on the gallery, enjoying the odor of the azaleas. The garden azalea is one of the South's few odorless flowers." (Mild laughter) "I'm told she makes the same mistake elsewhere with camellias." (Minor admonishment)

The advent of Nora Ephron's play has made me reflect upon all this anew. How guilty should I feel? The lawsuit crippled McCarthy financially and wrecked her health. Is there a term in law for something that doesn't directly cause a crime—those few little words of mine on the air—which, omitted, would have prevented it? I'm deeply sorry that I never spoke to McCarthy again. Could we have had dinner and enjoyed a grim laugh? Might she have said, "Don't blame yourself. I was hellbent on doing the Hellman thing"? Ephron, in her play, suggests that McCarthy had the whole thing planned. I don't really think she did, though. Maybe that's why I felt sorrier for her than for Old Scaly Bird. Scariest thought: Is it possible that I was set up? Used, by the two titans, to provide publicity for their fading careers? (I was, at the time, working more than they were.)
Hellman's death, in 1984, dissolved the whole murky business. The suit was thrown out. McCarthy died five years afterward, having announced that she hadn't wanted Hellman to die but, rather, to live so that she could see her lose. The fact is, everybody lost.
Not at all.
As Katie Roiphe notes of the Hellman-McCarthy animosity —
Ephron has several theories to explain it. For one thing, she suggests that some of their competitiveness had to do simply with being female. Her Hellman says, "You wanted to be the only woman at the table." And in fact, both she and McCarthy tried to elbow each other out of the serious, hard drinking, mostly male literary world. Hellman once said in the Paris Review: "Miss McCarthy is often brilliant … but she is a lady writer, a lady magazine writer."
More to the point –
Hellman's penchant for untruth is indisputable. She fabricated portions of her memoirs and an account of her interlude in Spain with Ernest Hemingway and glorified her statement before the House Un-American Activities Committee. On the subject of her decadeslong love affair with Dashiell Hammett, Gore Vidal once joked: "Did anyone ever see them together?"
The story s a noxious lie with Hellman claiming credit for the work of someone else — dead at the time of her book and the movie version.
The day Hellman spoke a the Ocars I saw her at the Gelson's in WeHo. Her shopping cart was filled with liquor bottles.
That's not an excuse. Just a detail.
Of course all the "Mainstream Media" cares about is a catfight
I doubt anyone's planning to tussle in a lily-pond with Drumpf anytime soon. But it's more than nice to see Rachel breaking with the "Mainstream Media" on lies when –
I have no doubt Chuck Todd will follow orders.
Cue Annie Lennox