Once upon atime we had Dovima
Now, alas, we've got Ivanka
Happily the Beltway's not about to "get with the program"
Despite what Donald Trump may say, Washington D.C. stores have plenty of formalwear in their inventory ahead of the inauguration.
Trump told The New York Times early Monday that D.C. shops have been selling out of gowns, with big numbers expected at the inaugural festivities — in particular, celebrities.
"We are going to have an unbelievable, perhaps record-setting turnout for the inauguration, and there will be plenty of movie and entertainment stars," he said. "All the dress shops are sold out in Washington. It's hard to find a great dress for this inauguration."
However, it seems that Trump's claim is quite a stretch. PEOPLE called a few D.C. area stores that carry formal dresses and evening wear, and every store said they had plenty of inventory available for those seeking an outfit to wear to the inauguration.
"No, we're not sold out," Mae Shipe, owner of the D.C. Mae's Dress Boutique, told PEOPLE. "We have 200 dresses, if not more, in stock."
Not only, it seems, are dresses in stock, but people aren't flocking to the stores to pick them up, either.
"We have not gotten a huge influx of traffic specifically related to shopping for inaugural dresses," Anastasia Thomas, an employee at Betsy Fisher, a D.C. women's wear shop, said.
Drumpf is certain to declare "Betsy Fisher" a "failure" with his next tweet.
Well I'm sure the store will survive — just like Meryl Streep.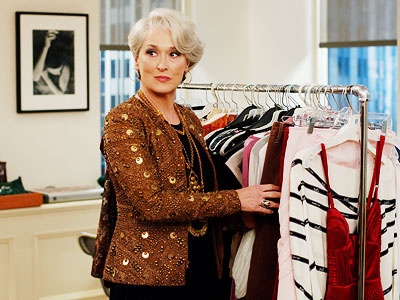 As for Trump, shouldn't he worry about what Melanoma's going to wear? Or is she going like THIS?
Take a tip from Lucy and Ethel dear.
As for the rest of us — cue Kay Thompson.